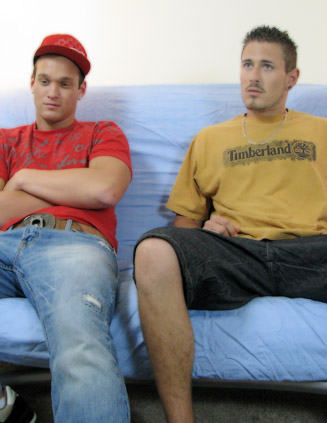 I had arranged for Dustin to come in and do a shoot for me, but he called me the morning of saying that his car broke down and then got towed. So, he had no ride to get to the studio. Dustin has always come to work on short notice when I have called him up, so it was no big deal to go pick him up. Taking a little drive I went with my assistant to go pick him up and right when he got in the car I had the camera turned on. He was surprised to see a camera in his face, but I told him that he should be used to it. As we pulled away from his house, he asked if we could stop for cigarettes at a gas station. I did not have a problem with that, I asked if he was buying them and then he kind of gave a funny laugh. He had no money on him, so that meant that I was treating him to cigarettes, a ride, and giving him a nice paycheck for the shoot. We pulled into the gas station and Dustin hopped out to run in and grab some, but said that they were closed. That is when this guy walked up and leaned in Dustins window to ask him for some money.

The guys name was Lane and he was stuck at the gas station trying to find a ride to the bus/train station to get back home. I didnt mind giving him a ride, because it was actually very close to the studio. Lane got in the car, in the seat behind me and right away he asked why we had the camera. I told him that we were a production studio, and when he wanted to know more I told him that we shot porn. Gaining more interest he wanted to know if he was going to get to bang some bitches, and I told him of course if he wanted to make some money. Out of the corner of the camera, I saw that Dustin was laughing and that was because he knew that Lane was in for a big surprise when we got to the studio. Lane said that he was willing to take a detour to the studio to do a shoot if that meant that he would make some money, so that he could get back home. Since he wanted to do the shoot, we just had to stop off for cigarettes, and then we could do the shoot.

Walking into the shoot room, the two straight boys took a seat on the couch. I explained that we were a site called Broke Straight Boys, and right away he asked what about Broke Straight Girls. I told him we have both sites, but that one is guys and one is girls and the plan was that he was going to do this before I matched him up for a girl threesome. The plan was that I would pay him to sit there and jerk off to a video and let me tape him. He would make some quick cash, and he was fine with it as long as he did not have to touch Dustin (although he made a couple of references that he would do stuff for more money than the $300). As Lane took off his shirt, I found out that he came down here for a job that he was guaranteed, and when he arrived the place went under leaving him with no money to get home. I asked Dustin to take off his shirt as well, and then the two of them went for their pants.

Both straight guys were sitting in their underwear watching the porn that had I just put on and were starting to play with themselves. I told them to work on getting hard, and once they were the underwear could come down for us to see. Actually, Lane did not take long before he pulled his dick out the fly and stroked his cock. I asked him how big his dick was hard and he told me right around 7 inches. It looked pretty thick as he pumped it. Both of them seemed to be enjoying the porn and I finally had to ask them to take down their boxers. Taking a seat on the couch, it appeared that Lane was a little harder than Dustin. Both stroked their dicks and I wondered which one was going to get off first. After several minutes it was Dustin who gave me a warning that he was about to blow his load. When he came, his cum went onto his stomach, and afterward he continued to pull on his dick while it was Lanes turn to get off. Lanes breathing changed, he stroked a little faster, and he started to make some noises just as he shot his load. Despite not being able to get off lately, Lane had a nice size load. Afterward, they got cleaned up. Lane wanted his money. I told him I would get it, and he wanted to do the shoot with the girls. He just had to wait until the following day when they were scheduled. Until then, he asked to crash on our studio couch so that he could save the money that he would have to spend on a hotel. I told him it was fine for the one night. I just might see if I can get him in another shoot with a guy while he plans on being in town.