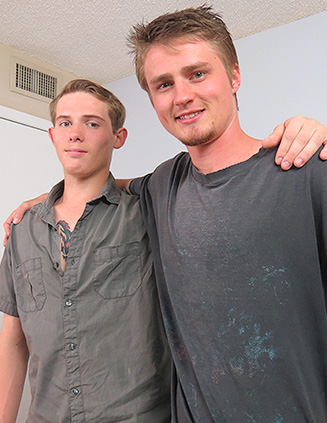 The action starts off with an intense make-out session between the two hot guys. John's blue Hanes underwear is revealing a silhouette of his big dick. JJ can't resist grabbing hold of it through the fabric and begins stroking it gently. Soon JJ's lips are wrapped around the head of John's large cock, sucking on it like a pro. He licks his lips seductively while spitting out drool onto the stiff rod. John is getting so turned on by JJ's oral skills that he decides to return the favor. He plays with JJ's cock through the leg hole of his silver boxer shorts, making sure to tease him enough before they are removed completely. The sound of a wet shaft being fondled fills the room.
Now JJ is completely naked and receiving the thing he enjoys the most, a blowjob. John works JJ's dick with his mouth, back and forth, up and down. Soon the guys decide to heat things up with some rim job action. John gets on all fours and exposes his ass to JJ's exploring hands. A vibrant pink hole is the current tongue target. Slimy spit erupts from JJ's mouth before he begins kissing the bussy. As John licks away at JJ's asshole, he can feel the tightness of it. He knows that this will be one hell of a ride for him.
As JJ's tongue expertly laps at John's rim, the straight boy's moans become louder and more intense. In a seductive tone, JJ asks John if he is ready to have his ass fucked. John agrees as he feels his heart racing in anticipation. As JJ slowly inserts his hard cock into John's tight pink hole, both of them begin to moan and groan. Their bodies contort as they continue to fuck furiously with JJ on top. The sounds of their flesh slapping against each other fill the air. JJ fucks the sticky white cum out of John's big dick, leaving his mid section dripping wet. JJ then blows his translucent thick load all over John's inner thigh.The two guys are left spent and satisfied after their intense anal sex session together.