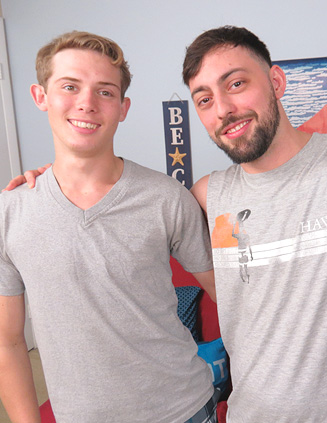 Colton and John start off by kissing passionately while still wearing their boxer briefs. As they continue to make out, their hands begin to roam all over each other's bodies, feeling every inch of skin. As Colton continues to explore John with his hands, he starts to become even more aroused than before. He can feel himself getting harder and harder as he runs his fingers along the outline of John's cock through his underwear. At the same time, he starts to kiss John on the neck and chest, slowly working his way down towards his crotch area. Soon John's hard cock springs free from its confines, standing at attention and begging for sensation.
Then Colton lowers his head towards John's massive hard cock and wraps his lips around the thick shaft. He can feel the warmth emanating as he takes it deeper into his mouth, gently massaging the sensitive skin with his tongue. Colton slurps and slobbers on John's cock like a starving dog with a bone. Next Colton gets naked and decides they should compare dick sizes. After positioning themselves face-to-face, each man takes hold of the other's erect member in a tight grip. They begin to grind their cocks together, feeling the heat and pressure building between. Afterwards John drips some of his wet spit onto the head of Colton's penis. As John eagerly tastes Colton's thick shaft, he begins to stroke up and down the length of it while also fondling and licking the balls.
John is seen crouched down, with careful precision he pulls Colton's white socks off to reveal the feet underneath. With both boys fully nude, things begin to heat up. Colton begins to rim John's ass hole with his wet mouth, he applies pressure using his lips and tongue, teasing and probing at the tightly closed ring of muscle that separates John's rectum from the outside world. Soon the hole is saturated with spit and ready to be stretched. Colton slides his big uncut dick into John's tight pink bussy and begins to thrust. His legs are spread wide open and Colton's cock is being pushed into his hole repeatedly. Squirts of sticky white cum eject from John's big dick and onto his belly. Suddenly Colton pulls out and shoots his seed all over John's abdomen.