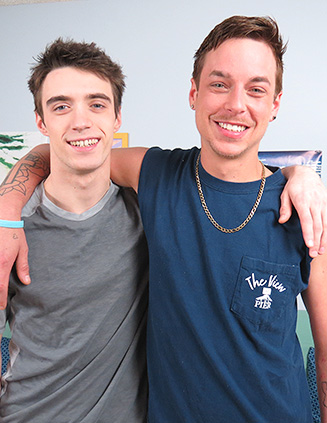 Ricky wastes no time in getting into his girlfriend's friend's pants as he quickly kisses him and moves his mouth to Blake's cock. He starts sucking, the first time he has seen Blake totally naked and definitely the first time he has had Blake's beautiful cock filling his throat.
Using his lips to surround the tip of Blake's penis, Ricky Bobby teases him slowly. He grips the thick shaft and slowly moves his head up and down along the cock before it is Blake's turn to get a mouthful of dick. Ricky lays down and lets his dick be enveloped by the warm wetness.
The gold chain dangles from his neck while Blake gently sucks on Ricky, and Ricky sucks on Blake's cock in a wonderfully compatible 69. The boys take their time, they are in no hurry to lick cock and ass.
Ricky spreads Blake's ass wide, and uses his tongue to tease Ricky further before sliding his finger in and gently loosening up his hole. Blake's lungs deflate and let out a long gasp of air when Ricky's huge cock finally slides into his tight ass.
For straight boys who are also friends, Ricky and Blake take their sweet time in using each other's bodies for their own mortal pleasure. He slides again and again into him while Blake plays with his shaft and balls.
When Ricky tangles Blake's legs up like a pretzel to get the perfect angle for his cock, the heat rises in the room. He fucks harder, pounding faster and deeper into Blake's small, smooth ass. Blake is a good sport, taking it and letting his friend use him that way, even giving him more lube when he needs it.
Ricky's animal instincts kick in now that Blake is fully on his knees and his beautiful ass is all that Ricky can see. He fucks him good like the straight boy he is until he pulses one final time and brings his cock to orgasm and spill cream over his ass cheek. Going in for a final dip in the stream, Ricky slides his cock inside Blake a few final times then rolls him over so that Blake can get the same release from himself, covered in cum.