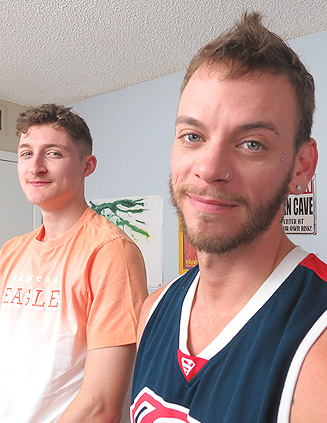 Easing him into his very first scene, Justin kisses Aaron's chest and rubs his cock through his underwear. Slowly making his way up and down Aaron's chest towards suckin gin his nipples, Justin initiates Aaron into the Broke Straight Boy scene by landing his mouth right onto Aaron's huge cock.
Taking it into his lips with heavy breathing, Justin sucks cock like a pro. He rubs Aaron's rod, spits on his tip, and chokes on his girth. With the perfect melding that Justin provided, Aaron is now ready to kiss Justin's chest. He follows instructions, kissing up and down his chest gently before landing his lips on Justin's cock.

"Suck it hard," Justin teaches. Aaron grabs his base and wraps his lips around the tip of Justin's dick. Even though his nerves are on high alert, he definitely learns quickly, adjusting his technique to the way Justin responds. The heavier the breathing, the more Aaron sucks.
Ready for that very first dick, Aaron bends himself over the mattress to receive Justin's massive cock. Sliding it in slowly, Justin gives Aaron his cock. Pounding as hard as the newbie can take it, Justin gives him a little slap on his tight round cheeks. Aaron's face crumples as he can feel the girth fill him.
Now on his back, Aaron plays with his cock as Justin uses his tight ass to pleasure his cock. But it's Aaron who enjoys this climax first. With Justin filling every inch of him, Aaron brings his hard dick to orgasm, blowing his load onto his own stomach in anticipation for Justin to cum.
He pumps and pumps, like every straight boy, into Justin's tight asshole. The speed picks up as he cums, pulling his cock out and spilling his hot cream, anointing the newest broke straight boy with a cum-soaked stomach.