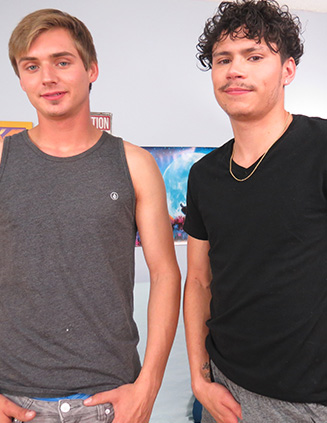 Ashton wakes up with a huge hard on throbbing underneath the comforter as Chris lays asleep next to him. Pulling his cock out to check just how much he needs a morning fuck, he pokes Chris and informs him of his horniness level. "Five more fucking minutes," Chris pleads in a sleepy voice. Being the convincing devil he is, Ashton is able to urge Chris to wake up and begin sucking his massive cock.
"You've woken me up early enough, it's my turn," Chris bargains. To which Ashton eagerly bends over and begins sucking on Chris's fine erection. He lays on his back as Ashton continues to grip the base and suck his long, thin, cut cock. Often times he plays with his tip using tongue, and occasionally dips lower to take the whole member into his throat.
Time for a morning fuck, Ashton mounts himself over his bedmate and gently lowers himself onto Chris's cock for the first time. Barely able to take in the full length, Ashton allows Chris to hold the base as he moves up and down along it, jerking his own cock to the same rhythm. Moans fill the air as Ashton continues to build the stamina in hopes of taking the cock all the way in, when Chris's patience runs out. He takes over and pumps faster into Ashton until it is too much for him to handle.
Shifting to more oral pleasuring, Ashton's fat dick gets attention once again from Chris' mouth, as he massages his own throbbing rawness. The boys position themselves on the floor, up against the mattress for another fuck. Ashton lays with his hips propped - a perfect view for Chris to enter him from above, taking control and hammering deep into Ashton's asshole. Eyes rolling in pleasure, Ashton feels not just a nice cock in his ass, but Chris's mouth on his cock as he both sucks and fucks his sexy playmate.
The pillows support Ashton's back as Chris stands to get an even deeper angle into Ashton's ass, balls bouncing against his ass cheeks. "Suck my dick again," Ashton begs. Chris happily obeys. Fucking and sucking. And stroking Ashton's cock as his own penis penetrates him. Chris knows how to make a cock feel good, as he causes Ashton to squirt his cum onto his face and far across the floor. Not done quite , Chris strokes Ashton's cock into full submission until his body is limp with released tension. Chris stands above Ashton as he comes onto his hairless chest, getting back at Ashton for not giving him those five more fucking minutes of sleep.