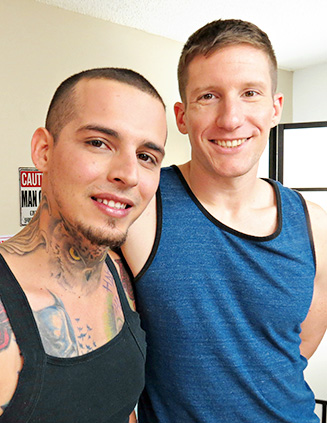 Well the chemistry was already high between hunks Aiden and Bentley, who are already starting off sucking each other's feet and feeling each other's legs. Within seconds, the boys pull each other close and lock lips in a passionate kiss. Aiden begins getting dominant by biting Bentley's neck, while Bentley's head rolls back in pleasure. When they strip naked, one heads for the other's dick and the two please each other in a 69.
They suck each other good until Bentley straddles over Aiden's face and gets his ass eaten. Now Bentley is ready to show his submissive side, and eases himself onto Aiden's long cock to ride him on the futon. "Oh my god, you are perfect" Aiden says while he feels Bentley's soft ass grinding hard on him. Aiden gets even more dominant when he gets Bentley on his back and forces his cock inside him.
Bentley moans hard while he takes it deep, touching himself while Aiden pounds him harder. As soon as Aiden pulls out, Bentley is ready to cum hard on himself, which he does. As he catches his breath, Aiden yells "I'm gonna cum!" and shoots a hot load far enough to hit Bentley's chin! The boys sigh hard as Bentley remains covered in cum.
Please comment and rate.