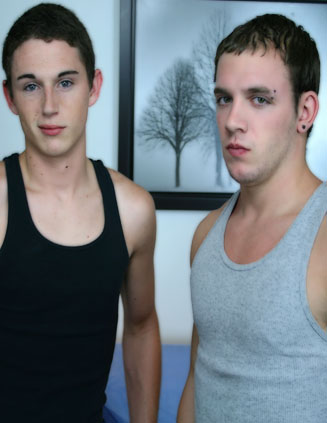 CJ and Tyler came back for another shoot, and I was pumped to do this shoot. Both these boys are hot, young, hard cocks all the time, and easy to work with. They love putting on a show for the camera, so when I got the opportunity to put them together I setup a shoot. When they arrived at the studio they went straight to the kitchen grabbed a can of pop, and started chatting with each other on the couch. As soon as I was ready to get started, they were ready to get to work. Sitting down on the couch, both guys were really relaxed, and I started out giving CJ crap for mumbling on camera all the time. He didnt really care, but sometimes it really is hard to make out what he says. Taking off their shirts, they showed off their chests and nice tans. We joked around with what they were going to be spending their money on from the shoot. CJ was watching the porn that I had going on in the back ground and would rub his cock to get a boner. In a joking manner I got Tyler to start to stroke CJs cock, but moved right into him giving head. Leaving his boxers on, CJ was getting a blow job through the fly of his boxers.

Switching things around, I told CJ to give Tyler head. Tyler had on a pair of boxer briefs, and he pulled his dick through the fly as well. It only took a second for him to get fully hard. I noticed that Tyler fucked CJs mouth with his dick. Getting tired of standing they moved over to the couch to get a little more comfortable. As Tyler was still getting head, he reached over and started to jerk off CJ at the same time. CJ got tired of the underwear getting in the way of his dick sucking, so he stripped them off Tyler. With Tylers dick as hard as a rock, I told them to fuck whenever they were ready. Hopping up they changed the couch into a bed, and grabbed a bottle of lube from the table. As soon as Tyler had a condom on, he got behind CJ who was on all fours. Tyler was trying to get his dick inside CJs very tight asshole. They were taking things very slowly, but Tyler inched in all the way. As soon as he was all the way in, he started to move back and forth. With fucking starting now, CJ started to pull away and moved forward from Tyler. However, reaching around CJs waist, Tyler pulled him back for more.

Flipping over on his back, CJ throw one leg up in the air, and seemed to be enjoying the fucking a lot better now. Tyler picked up the pace, and really started to pound all the way in and pull more of his dick out before shoving it back in. CJs asshole was still fighting having a dick in it, and Tyler loved that feeling of fighting the resistance. Getting behind the two of them on the bed, I watched as Tylers balls slapped against CJs ass. CJ would never truly admit on camera that he loves to get fucked or even to me, but he moans and doesnt fight having a dick up his ass. The two boys started to get a little sweaty after all the fucking, and that made them look even hotter as I watched them. Reaching up, CJ ran his hand up Tylers body to his nipple. Squeezing it in his hand, Tyler liked having his nipples played with. The two stopped the fucking, and stroked their cocks to get off. Tyler was the first one to blow his load all over CJs chest. When Tyler came he was able to give a couple good squirts like normal. CJ came all over his hand, and his cum load was a lot thicker in size. I told the guys to keep coming back for some more work any time, and they are always down for more.