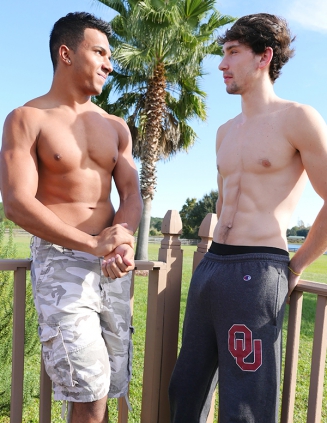 Abram Hoffer and Devon Felix talk exercise and workouts for a minute before deciding to get a little physical together as Abram lays Devon back onto the bed and they kiss. They aren't making out long before those big cocks come out and Abram is face fucking Devon, pushing his dick into Devon's mouth and thrusting it as deep down his throat as it'll go.
Of course, with Devon's sexy body and skilled mouth, it's not long before Abram is hard and spreading Devon's ass apart to bury his throbbing, bareback cock inside of him! Devon takes deep breaths as he gets fucked raw and struggles to take Abram's big dick, but once Devon gets warmed up they try all kinds of sexy positions until they take a break to kiss.
They masturbate each other a bit before Abram leans in to give Devon oral, sucking his fat cock until Devon's on the verge of release and they both lean back to stroke their own dicks until they're covered in cum!