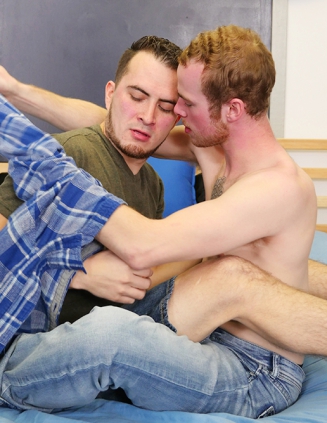 Kaden Porter, one of our newbies, is still a little nervous on camera, but David Hardy's an old pro so he helps calm Kaden's nerves by pulling him in for kisses, making out to take Kaden's mind off the camera. As they both get into it, they slowly strip and David teases Kaden with his expert tongue, exploring his body with his mouth before taking Kaden's big dick between his lips and sucking that sweet cock!
Kaden's hard in no time and next it's Kaden's turn to give head, making David moan as he sucks him off, David pushing Kaden's head deeper over his cock until he gags on it. David bends over and asks for a rimjob and of course Kaden obeys, licking that tight hole before he sticks his bareback cock in it and gives it to David hard, pounding him doggy style until they take a break from fucking so that David can eat Kaden's ass.
When they've both had enough oral, Kaden buries his prick in David's ass again, going in deep as he holds David's legs apart and fucks him hard and raw while David strokes his own throbbing cock. David shoots a huge load with Kaden still inside of him and then Kaden pulls out and unloads his hot cum all over David…then licks it off!