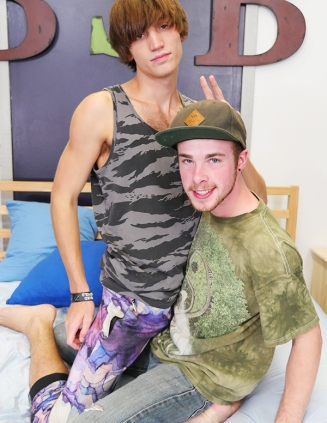 Kaden Porter and Zander Floyd have been spending a lot of time together outside of the studio, so we thought it'd be a good idea to bring them together for a scene so they can really get to know each other. Looks like the chemistry between these two is real, kissing as they strip and soon enough Zander's mouth is on Kaden's cock, sucking that big dick while Kaden runs his fingers through Zander's hair, pushing his cock deeper into Zander's mouth.
Zander's up next to receive some oral, and Kaden doesn't disappoint his partner, working that shaft with his tongue and licking Zander's balls before lifting Zander's hips up and sliding that bareback prick into Zander's ass! Zander holds his legs apart, letting Kaden get deep inside of him as they fuck, trying different positions to see which one allows these two studs to go harder and deeper!
Kaden plows Zander raw, taking advantage of that tight little ass as he pumps his cock in and out until both these guys are ready to release their loads! Kaden takes his prick out of Zander's ass and works it with his hand, pulling Zander in for some kisses until he's ready to cum, and Zander opens his mouth to catch it! After his facial, Zander strokes one out next and then these guys call it a day!