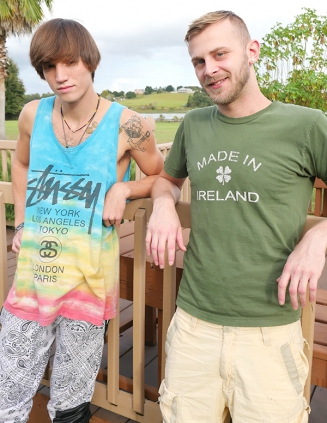 Chandler Scott and Zander Floyd are two pretty shy guys, but lucky for them there's not much need to talk when you're fucking, so they get right to the good stuff, moving in for kisses as they lose their clothes. Zander takes of Chandler's boxers and gets on his knees between Chandler's legs, bending down to take that dick in his mouth as he licks and kisses Chandler's shaft and balls!
Chandler gets hard under Zander's experienced tongue, and Zander slides the condom on with his mouth and climbs onto Chandler, straddling him and slipping that dick into his ass and riding it hard. Chandler runs his hands over Zander's ass as he bounces up and down on Chandler's cock until Zander moves forward and puts his dick in Chandler's mouth, making him suck it before Zander climbs off and bends over, ready to take that cock again!
Zander isn't waiting long as Chandler gets off the bed and stands behind him, fucking him hard and deep as Zander spreads his ass wide open for Chandler's cock. Zander flips onto his back and lets Chandler plow him while he plays with himself, jerking his own dick until he busts a nut with Chandler still inside him. Seeing Zander drain his cock makes Chandler pull out and shoot a huge load across the bed and Zander's chest!