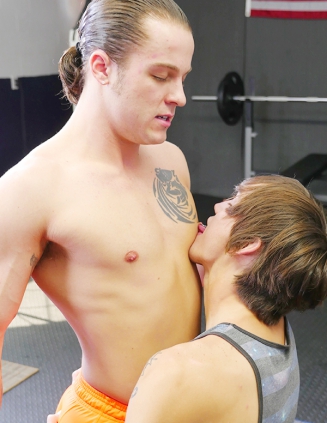 Zander Floyd and Zeno Kostas have both been models with us for over 2 years, but somehow they've never ended up in the studio together…until today! When we set them loose on each other, Zeno jumps right onto Zander and kisses him deeply, making out as Zeno grinds his cock against Zander. They both get naked and Zander is the first one to give oral, licking Zeno's dick and then taking it in his mouth and sucking it until it's hard.
Then they switch and Zeno gives Zander head, sucking that sweet cock like it's the most delicious thing he's ever put in his mouth and then giving Zander a rimjob on top of that amazing blowjob! When both these guys are horny and ready to fuck, Zeno offers his ass up to Zander who slides his prick inside of Zeno slowly and once he's in, he fucks him hard, fast and raw!
They change positions and Zeno straddles Zander, riding that long shaft until they flip and next it's Zander who's getting pounded, but until after Zeno's warmed Zander's ass up with his fingers! Zander gets his ass stuffed full of Zeno's bareback cock, then they flip again and Zander fucks the cum right out of Zeno and catches it in his mouth, then Zander makes Zeno drink his cum as he drains every last drop!