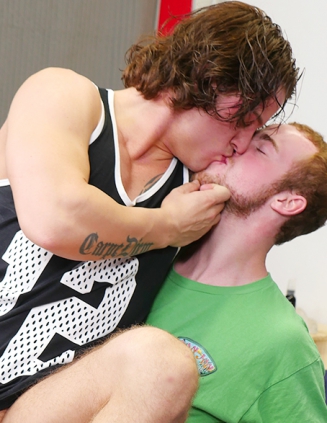 Zeno Kostas fills newbie Kaden Porter in on his home life and his job as a stripper where he gets to learn all sorts of new tricks and how to work his delicious booty to make anyone horny! He climbs on Kaden and grinds that ass all over him, pulling his pants down and making Kaden smack it then eat it out, making the newbie get his first taste of ass as Zeno loves every minute of it!
Kaden is still unsure of what to do with another naked dude, but Zeno makes it easy for him, guiding Kaden's hand to his cock and letting him touch it and stroke it as he turns to kiss him. They each strip down slowly and Zeno wraps his mouth around Kaden's cock, showing him what a real blowjob feels like as he deepthroats that meat!
Zeno lubes Kaden up and bends over, ass in the air, letting Kaden bury himself deep inside of Zeno's tight hole and by the look on Kaden's face he loves fucking Zeno's perfect ass! He pounds Zeno raw, going nice and slow so that Zeno can feel every movement of that dick inside him and then they try a different position, Zeno straddling Kaden and riding that hard cock, his own dick bouncing as he gets fucked! Kaden keeps pounding Zeno until he makes Zeno shoot his load, then Kaden empties his cock into Zeno's mouth! A hot end to a very hot scene!