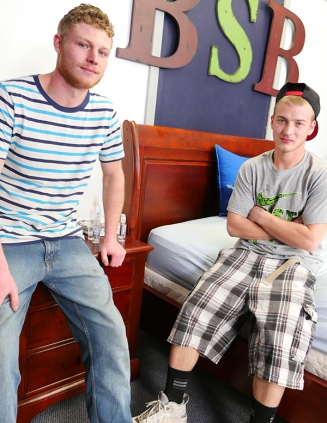 Levi Jackson is still getting broken in as a newbie here on BSB, but Jason Sterling knows to go a little easy on him, but that doesn't mean it won't be a damn good time for Levi! In fact, Levi gets top notch treatment from Jason as he kisses him, pulling off Levi's shirt and licking his nipples as he works his way down to that big dick, taking it in his mouth and sucking that cock so hard.
But after Jason gives Levi such awesome head, he expects some in return and Levi goes down on Jason, a little more hesitant with that cock than Jason was but getting more comfortable with each stroke of his mouth. When they've had their fill of foreplay, Jason lowers his tight ass onto Levi's waiting cock and shoves it deep inside of him, riding Levi's bareback cock while Levi gets harder inside of Jason's tight hole.
They try a new position, letting Levi control the thrusts as he fucks Jason from behind, then gets Jason on his back with his legs spread wide and ass open for Levi's throbbing hard cock. Levi buries his dick in Jason, fucking him raw until he pounds the cum right out of Jason then pulls out to bust a nut himself!