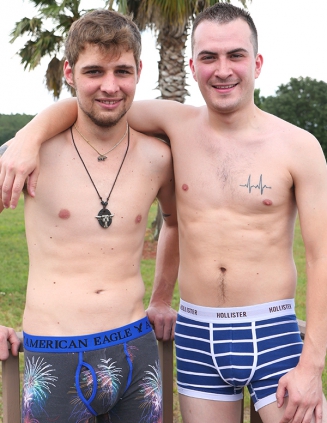 We've brought David Hardy and John Henry into the studio today, and it's not hard to get them undressed as they show us how they've manscaped their bush for the summer. But before we set them loose on each other, we introduce them to the idea of docking and they give it a try, joining their uncut cocks together before they climb onto the bed and get things heated up!
They kiss passionately until David straddles John and makes him suck on his big dick, getting it hard before moving onto a footjob while David plays with John's ass. David gives John some oral before bending his legs up and fingering his tight hole, and since all this foreplay has got them good and hard, they give docking another shot as David pulls his foreskin over John's dick and jerks them both.
These boys have had enough messing around and are ready to get to the fucking, so John spreads his legs and lets David inside him, and David takes no mercy on John as he pounds him raw! David takes a break from fucking John's ass and fucks his face instead, pushing his dick into John's mouth before taking his ass again and cumming between John's ass cheeks! After one hell of a creampie, John jerks himself off and cums harder than ever before, finishing off the scene with an amazing cumshot!