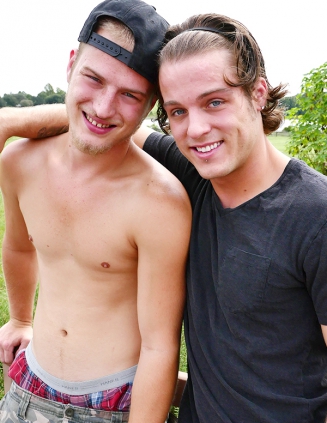 Zeno Kostas takes the lead in Jason Sterling's first time getting fucked, but as usual Zeno's concern is for his partner, so he starts out nice and easy with some kisses. Jason follows Zeno's lead easily, making out and licking Zeno's nipples until Zeno gets a little more aggressive and goes for Jason's sweet cock! He pulls Jason's dick through his boxers, taking that uncut meat in his mouth and showing Jason what a real blow job feels like as he sucks on that juicy prick!
Jason gets his fill of dick next as he deepthroats Zeno's big cock and sucks on his balls, then these two studs 69 and Zeno goes for the ass when he fingers Jason's hole while sucking him off. But Zeno's fingers can't prepare Jason for that big dick, and when he bends over to get fucked Zeno knows to take it slow on this newbie, entering him gently with his bareback cock and giving him time to warm up to the feeling.
They try a few different positions and Zeno starts pounding Jason harder and deeper, filling up that tight virgin ass with his dripping cock! When Jason gets on his back and spreads his legs, Zeno fucks him good and deep until Jason yanks his own cock and busts a nut and Zeno isn't far behind as he pulls out and lets his cum fly!