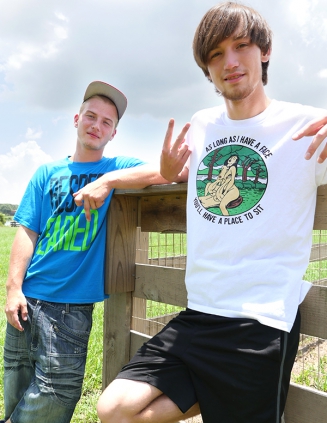 Jason Sterling is back for his next scene after his solo, and although he admits he's a little nervous he's not letting it get the best of him. Zander Floyd is here to help ease his mind and tease his cock, and when they've got their shirts off it's not long before their lips and hands are all over each other. Zander takes charge, showing the newbie how it's done as he pushes Jason back onto the bed and they make out…until Zander works his way down to Jason's dick.
He sucks Jason's cock, shoving the whole length of that big prick into his mouth while Jason has some fun with it, running his cock along Zander's chin. When Zander's finished teaching Jason by example, he climbs up to Jason's face and straddles him, his cock dangling in front of that inexperienced mouth. But when Jason starts giving Zander oral, it doesn't seem like he's inexperienced at all!
After showing off his cock-sucking skills, we get to see his ass-fucking skills next as Zander scoots back and sits on Jason's hard dock, inserting it slowly then letting Jason fuck him deep. They try a few different positions as Jason fills Zander up, going balls deep in that tight ass as he pounds him raw until they both cum on Zander's stomach!