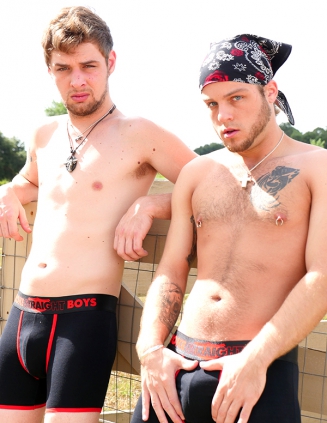 John Henry and Zeno Kostas are both on a break from school, so they've got plenty of free time on their hands which means they're back to the studio for some more cash and more cock! Zeno's as passionate as always when we set them loose on each other, kissing John and touching himself as they make out, and then Zeno drops his pants and John takes that meat in his mouth and sucks it hard while Zeno plays with his own ass!
When it's John's turn for oral, Zeno devours that uncut cock, pulling back the foreskin and giving John head good enough to make his toes curl, sucking on the balls and licking that long shaft as John writhes in pleasure! They've had enough fun with the oral, and now it's time for Zeno to get some ass as John sits on Zeno's prick and rides it raw and hard, Zeno grabbing John's ass and helping him bounce on that cock!
When they switch positions, Zeno gets in deep doggy-style, making John's ass bounce as he pounds him hard, filling John's tight hole with his bareback cock as John enjoys every minute of his ass getting massaged by Zeno's dick! They try a few more positions before Zeno's prick as John cumming hard, and Zeno gets in a few more good thrusts before he sprays John with his hot jizz!