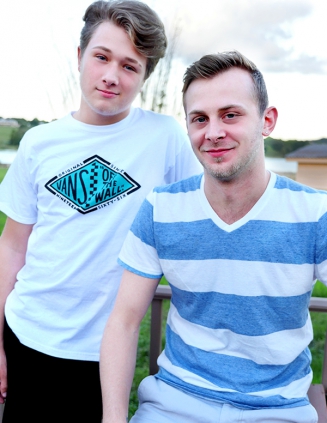 Chandler Scott is here for his first bottoming experience, and Brody Lasko is the lucky guy who gets to take this hottie's virgin ass! But before they can start fucking, of course they have to get warmed up first, and their deep kisses are sure to get the blood rushing. As they make out, Brody takes off Chandler's shirt and runs his hand over his body and down to his cock, massaging it through Chandler's shorts before those come off next and Brody has his face between Chandler's legs!
Brody pulls Chandler's dick in and out of his wet mouth, using his hand on the shaft and his tongue on the tip as he sucks Chandler until he's hard. Next is Chandler's turn to give oral and by the expression on Brody's face, he's pretty damn good at it! Chandler sucks Brody's dick until it's hard enough to pound Chandler's ass, and that's exactly what he does next as he gets Chandler on the bed and buries his dick between Chandler's ass.
For his first time bottoming, Chandler takes that cock well, letting Brody direct him while he gets his sore ass pounded harder and harder! Brody sure isn't gentle on this newbie, he fucks him hard until he makes him cum, then pulls out of that tight ass and unleashes his load onto Chandler!