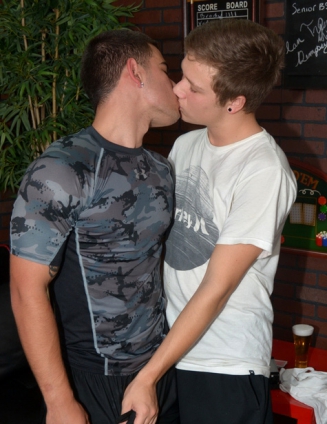 Brody Lasko and Vadim Black get right to it in this steamy scene, swapping spit as they make out and undress each other, kissing and touching each other until Brody pulls his cock out and Vadim sucks on that sweet dick. Vadim rips Brody's pants off and works Brody's meat with his mouth until Brody throws him off and goes right for the fucking, sitting on Vadim's hard prick and riding him.
Vadim watches Brody's huge cock bouncing in his face as they fuck raw, but Vadim wants to get deeper in that tight ass so he gets that sexy little bottom on his back and slides his bareback dick back inside. He pumps his cock into Brody nice and slow, letting him feel every movement of his fat prick as he fills him up, Brody grabs his member and jerks himself off while Vadim buries his dick in his ass.
Vadim pulls out and shows us Brody's stretched asshole as he fingers it a little and then lets Brody top him, taking that ass with his beast of a cock. They flip again and Vadim makes Brody's ass bounce as he pulls his hair and slams into him until Brody shoots his load all over and then jerks Vadim off!