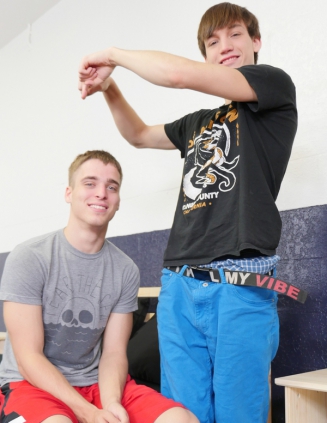 Newbie Brady Bennett is about to suck a cock for the first time, and his nerves are showing! But Zander Floyd's chill attitude seems to make it a little easier on Brady as they undress, dicks out and ready for action as they start to kiss. They take it nice and slow, having fun with it as they make out, kissing and laughing as Zander slowly works his way down to Brady's waiting cock.
They back up onto the bed and Zander shows our first-timer how it's done, sucking Brady's dick and licking his balls, ass in the air as he pleasures his less experienced partner. But Zander's teaching session is over and now it's Brady's turn to get some hands-on experience, and for a newbie, he doesn't do bad! He massages Zander's dick with his hands and mouth, even touching himself while he does it, taking that prick deep in his throat before they try a little 69-ing.
Brady gets a faceful of balls and ass as he gets his face fucked and his cock sucked by Zander. When they're ready to cum, they lie back next to one another and jerk each other off, Zander shoots his load first, followed by Brady who strokes one out while Zander gives him some special attention.