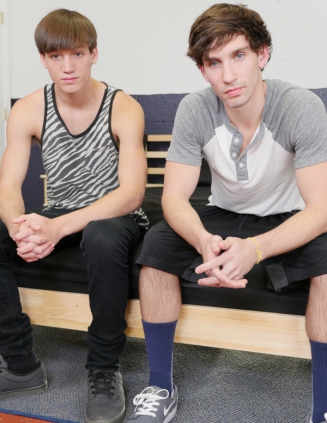 Abram Hoffer and Zander Floyd have been busy boys outside of the studio, but they've finally found some time to stop in and earn some cash…and we put them right to work! They start by making out, kissing and touching as they undress until their cocks are hanging out and their asses are bare!
Then Zander gets on his knees in front of Abram and works magic with his mouth, sucking Abram's dick until it goes from six to midnight, hard as a rock and ready to stick up Zander's ass! After a little more oral, they move it to the bed and Zander spreads his legs for Abram who positions his cock right as Zander's entrance and slowly slides it inside of him.
When Zander gives the okay, Abram gets deep and starts thrusting, fucking him raw as he moans and his toes curl in pleasure. They do Zander on top next, sitting on Abram's prick and shaking his hips as he feels Abram buried deep inside of his tight ass, riding him bareback as they both enjoy every second. It doesn't take much of Zander's tight, smooth ass to make Abram cum all over him…after Zander cums all over himself, of course!