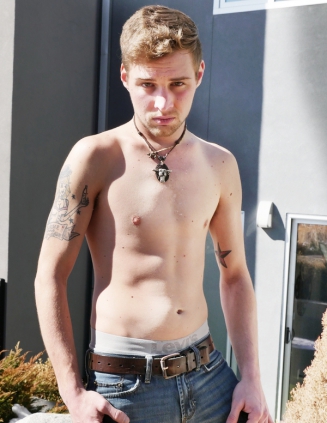 John Henry is our newest model here in the Broke Straight Boys studio, and this country boy is very easy on the eyes. He's a farm guy, so he knows how to work hard, but here in the studio we're going to make this newbie do a new kind of work. We're starting him off with a solo scene to get him used to the idea of being on camera, but he seems pretty relaxed and doesn't hesitate to drop his pants when we ask him.
His body is slim and toned from working on the farm, and his uncut cock and fine ass are just an extra bonus to his good personality, but when he lies back and grabs the lube we get to see his serious, sexy side. He works that cock slowly, running his hand up and down the shaft and holding it gently until it starts to get harder, then he rubs it a little faster, moving his hips in a thrusting motion as he plays with his nipple.
He closes his eyes and focuses his hand on the tip of his cock, pulling the foreskin back and letting us see that sensitive tip as he starts going faster and faster. His body tenses up as he gets closer to cumming, until finally he lets out some moans and shoots his load…right onto that cute face!