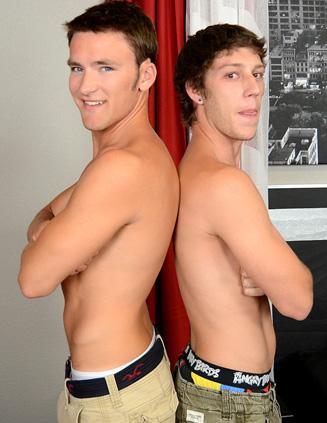 Look who is kissing newbie Ian Dempsey? Cutie Paul Canon! The two start today's update on their knees, on the bed and making out. After sharing some tongue, the models strip and Ian sucks meat first. He slobbers all over Paul's tool, making the lad moan and groan. He's doing so good that Paul gives him a wet kiss, which Ian returns.

"Oh, my god," Paul says.

Ian deep throats that thick rod, making it shiny with spit. Paul face fucks Ian, making sure the lad's mouth gets all the dick it needs. Soon, it's Paul's turn to suck some dick. He licks Ian's shaft like it's an ice cream cone. The smacking sounds fill the studio.

"Am I doing good," Paul asks.

Ian answers in the affirmative and the two share another kiss to make everything official! LOL!

Paul returns to his sucking duties, even swipes at Ian's balls. His loving tongue makes Ian's toes curl.

The two lads get into a 69 position, but there is no dick sucking. Instead they rim each other's holes. Ian pulls Paul's cheeks apart as he has a good meal of booty.

"I want you to fuck me," Paul orders.

Lube is put where it belongs and Ian puts on a condom. As for Paul, he is all set in the doggie position. Ian slowly enters and when he's balls deep he starts to fuck. The strokes are slow, but Paul feels each one.

"Oh my god," he whines.

He grits his teeth as Ian has his way with that sweet ass.

"Oh, fuck that hole," Paul orders.

Ian does so, making sure his balls strike Paul's cheeks on each down stroke. When he pulls out, Paul turns around and gives Ian a kiss. Ian gets on his back, and puts his thighs in the air. Paul puts on a condom and enters Ian's hole.

Ian throws his head back, moaning like a newly busted virgin. His dick is rock hard, so you know his special spot is getting a severe pounding.

"I want you to cum for me," Paul says.

Ian jerks a big load out of his sausage, coating the top half of his stomach. Paul pulls out and jerks his own meat. The first shot of his jizz lands on Ian's chest.

All of this screwing ends where it started: with a kiss.

Thoughts? Complaints? Or are you passed out?