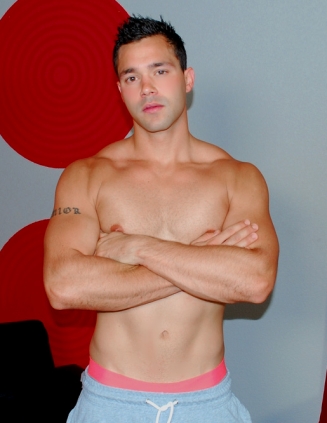 You are not permitted to say any negative things about Sergio Valen. He's here because his dog needs a stomach operation, and dog owners are both smoking hot and the salt of the earth. LOL!

It's not fair to call Sergio a newbie. The stud has done work for CollegeDudes and a few webcams. All of this work has, unfortunately, caused a riff between him and his gal pal. Well in truth,she was fine with it. But when her folks found out, they sort of flipped. Hopefully the lovebirds can get back together because from Sergio's account she seems pretty cool.

Sergio strips and his impressive beef is at full mast. As he jerks his meat, Sergio has an existential question.

"Is it bad that looking to myself gets me to that point," Sergio inquires.

He certainly is grooving to his hand. Even spits on his dick for some lubrication. The studio is soon filled with the sound of Sergio's moans, and his hand on his johnson.

He pauses for a moment to pull his nuts. When he gets on the bed, Sergio plops on his stomach and we get a view of those sweet cheeks.

"I got a hairy ass there," Sergio notes.

He reaches behind and pulls his dick and one of his cheeks. Sergio might be straight, but he might be able to be convinced to be fucked like a good bottom boy.

"That's a virgin hole," Sergio observes. "Nothing has penetrated this hole. I'm hoping nothing penetrates this hole. but it depends. When it comes to money…"

Smart and sexy dude. :-)

Sergio remains on his stomach, giving a perfect view of an ass that must be mounted. His meat is so long it can reach his hairy boy backside. He might not want to be busted, but Sergio stays hard while on his stomach. :-)

Sergio flips over and continues to beat off. The dude is transfixed by his tool.

"I can cum any second," he says.

The stud does bust a load that goes at least 3 feet in the air. When it finally lands, his hand and side are covered in goo.

"I've been saving it up," Sergio says with a sexy grin.