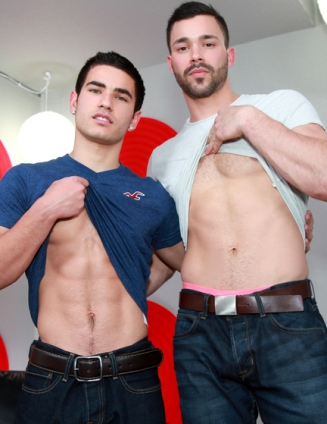 Sergio and Vadim seem pretty eager to start fucking and sucking...for two straight guys, anyway! They swap a little spit before Sergio moves south and takes Vadim's cock in his mouth, sucking on it and making it grow as Vadim thoroughly enjoys the feeling of Sergio licking and sucking on his dick. But now that Sergio's showed him how it's done, Vadim's got something to prove as he goes down on Sergio, deepthroating his massive prick before Sergio tells him to lay on his side and get his ass ready for his rock-hard cock.
But it seems like there was really no way that Vadim could've prepared himself for Sergio's huge curved cock, and he cries out in pain as Sergio enters him. He takes it nice and slow but gets in deep as Vadim's ass struggles to accept his dick, even from a different position Sergio's meat is almost too much for Vadim to handle, but he takes it like a man, groaning in pain as Sergio fucks him doggy-style, harder and faster than before!
Vadim's tight asshole and moans of pain as Sergio pounds him are enough to make him cum, and Sergio shoots his load onto Vadim's back. But after taking Sergio's huge curved cock up his ass, Vadim deserves some pleasure, too, and he shoots his load as well. Maybe after a few more scenes, Vadim's ass will get better at taking a dick…but we'll just have to wait and see!