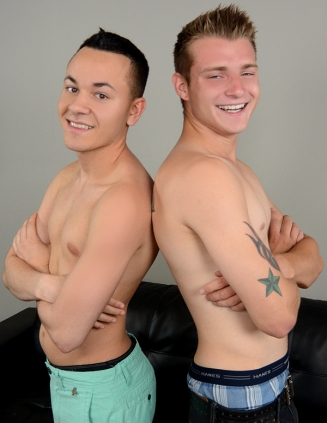 Remember Kyle Johnson's solo? He confessed his casino love, and a certain scribe was certain he
would be back with BSB. Well, that talented writer has proven to be prescient (LOL)!

"I lost all my money from the last scene at the casino," Kyle says to the cameraman.

The lover of games of chance is sitting next to newbie Tristan Stiles (who spent his BSB paycheck on
clothes). Blackjack seems to be Kyle's weakness.

Tristan gambles also, but keeps it on Facebook so no actual cash is lost. However, his money
problems haven't changed much since his solo.

"You're pretty open now, that you need money, to the idea of doing something with another guy,"
the cameraman notes to Tristan.

Tristan doesn't know what dick will taste like. Kyle, as "newbie-lite," really can't offer Tristan any
advice. However, Kyle promises to offer any advice he can. The two get naked, with Tristan adding
his own music. He gets dick sucking duty first. Puts his head in Kyle's lap and suctions away.

"It feels pretty good," Kyle observes when asked how his partner is doing.

"You should lick the tip," Kyle suggests.

Tristan does what he's told. His spit makes the head and shaft shiny and slick. Kyle offers a reach
around, a prize for all of Tristan's good work.

Kyle stands up and Tristan hits his knees. He resumes sucking that meat stick.

"There you go," Kyle encourages.

Tristan's mouth is overflowing with dick, but it's OK. He looks even better with all that sausage.

"Like that," Kyle asks.

Tristan only smiles, but his own hard-on tells the tale. He gets a well earned break, by sitting back
on the couch. Kyle noisily sucks away, making sure there's lots of spit.

Tristan blisses out, his mouth open. As for Kyle, his excitement level has reached the red zone. He
shoots with Tristan's tool in his mouth. His thigh gets covered in his own man goo.

Kyle keeps sucking away like a pro.Those soft lips massaging Tristan's shaft. He even deep throats,
an effort tear falling from his eye. Tristan strokes his own cock as Kyle sucks on a nipple. Tristan's
first shot of jizz lands at the bottom of his chest.

"That was fun," Kyle says.

Do you agree?