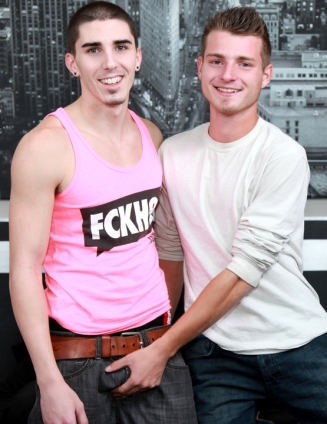 "Are you broke?" This query comes from the cameraman and the two fellows sitting on the studio bed, Damien Kyle and Tristan Stiles, nod in the affirmative. "As usual," Damien replies. That's why we love them! LOL! Well, that and their sweet asses. Neither has a story to share, except Damien living that VIP high life. As for Tristan life is all about work. "You work a lot, but you're always broke," the cameraman observes. "Because I got bills," Tristan says. "Stay broke," the cameraman replies. A good piece of advice, no? Because of Tristan has cash, we won't see that ass. LOL!
Talking about booty, Tristan shakes it when he shows the cameraman and Damien how to Wobble. It's a dance all the kids are doing nowadays. :-) Clothes are removed, and butts are shaken for the camera. Damien reaches over and grabs two handfuls of Tristan's butt flesh. "Do you think it's ready," the cameraman says to Damien. "Oh, it's ready," Damien notes as we get a closeup of Tristan's hairy hole. Damien will suck first today. He opens wide and swallows Tristan. The expert in dancing (LOL!), leans back and moans real loud. Even takes a hand and pushes Damien's head down.
Tristan's rod is all shiny with spit. To show how much he appreciates Damien's skills he places a kiss on Damien's lips. The kiss is returned. Who doesn't groove to BSB romance? It's time for Tristan to show what he can do with his mouth. He takes a hold of Damien's cum filled nuts and sucks away. His magic tongue gets Damien's sausage to full strength. "Oh, fuck," Damien whispers.
When it's time to fuck, Tristan get on all fours. Damien gets behind him, and once he breaks that ass seal he pounds away. Tristan doesn't even get a chance to get used to the filling. It's balls to the walls. The blonde bottom whimpers into the sheets. "Ride that dick," Damien orders. He puts his hand on his boy's hips and brings that boy pussy to him. He puts Tristan on his side and keeps deep drilling. But Damien wants to get deeper into that hole, so Tristan is put on his back for the last round. Damien grabs the back of Tristan's knee and picks up the pace. Tristan's spot is getting tenderized and the poor bottom boy finally cums with a old that makes his stitch sticky. Damien pulls out dumps juicy cum on Tristan's tool "I know you like that man juice," Damien says, after the boys have calmed down. Damien puts some of the man juice on his finger and "tricks" Tristan in having a taste. From the grin on Tristan's face, he's swallowing the nectar of the gods. LOL!