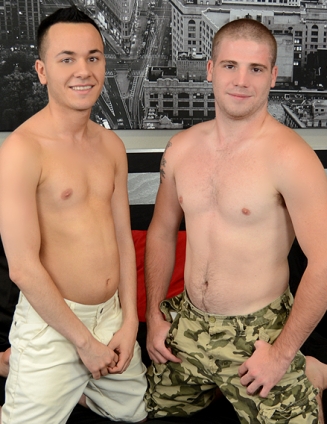 A newbie treat for this update. Kyle Johnson and Griffin Matthews have both showed us they can jack
off in front of a camera. Now they are going to see if they can do something with a dude.

"He's going to be sucking my dick," Kyle says to the cameraman when asked to describe what's
about to happen. "And I'm going to suck his."

Griffin isn't an old pro (grin), but he knows what it's like to fool around with a guy. When he's been
drunk, some guys have gone down on him. Lucky bastards! LOL!! He's looking forward to seeing
what he and Kyle can do.

The two get naked. Kyle is ready to play before his underwear is off screen. Griffin sucks first. He
licks the head like a lollipop. Even tries to deep throat Kyle's monster. Griffin sounds so cute when
gagging on meat.

Kyle is having the time of his life, whispering encouragement to his scene partner. It's soon time for
him to try some pole loving. He works extra hard to get Griffin hard (Kyle's own stick is bouncing up
and down). All the effort works because Griffin's tool is ready to play. Griffin tells the new sucker to
give his balls a tongue bath.

"Big nuts," Kyle observes.

"It's the Eiffel Tower," Kyle calls Griffin's stick.

"You're sexy as hell, dude," Griffin says. "You're like a damn pro."

Hard to disagree with Griffin's assessment.

Griffin gets on his knees, and Kyle sits on the edge of the bed. Kyle is moaning, but he's pleased
because Griffin is deep throating him like there's no tomorrow. Griffin even looks up, his eyes red
from working so hard.

Kyle wonders if Griffin has ever tasted cum. The answer is no, but the newbie is willing to try a little
protein. LOL! He jerks and sucks. Kyle even gives one of his nipples a little tweak.

All that spit and tongue action pushes Kyle over the edge.

"Oh, fuck. Here it comes," Kyle moans.

Griffin put his mouth on Kyle's dick, and doesn't remove it until a load lands on his soft tongue. To
show there is cum in his mouth, he opens up and lets the man milk drop from his lips.

Griffin stands up, and jerks off. Kyle leans in front of him, his tongue hanging out. Griffin's cum
shoots forward, and covers Kyle's lips, nose and tongue.

"That was a big bust," Griffin notes.

There is only one thing to say: newbie power!!