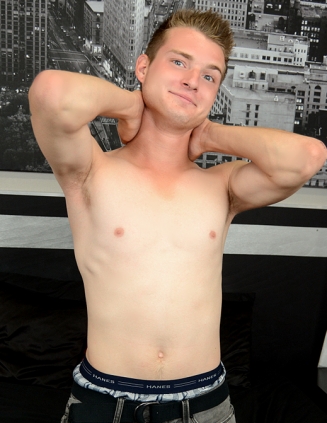 If you work hard, things will work out. We've worked about 3 months to get Tristan Stiles to show
some of his goodies. He demurred, but recent things have made a cash infusion critical. Lost his job
and his roommate has decided to join the armed makes (be safe, unknown roomie).

Tristan was an early bloomer when the art of self love is involved. It all started when he was 8.

"My brother got me into [watching] pornography and that's how I started jerking off," Tristan says to
the cameraman.

He's single but is no wallflower. There's some crazy story about a cougar. They had sex in multiple
places in her house, including the closet. Tristan is also one of those "I had sex in a movie theater"
dudes. Seems like the lady for that encounter was a moaner!

He strips and starts jerking. The cameraman has to shush him because Tristan is a chatty Cathy. But
that's OK. The newbie is nervous. He uses two hands on his meat, which is rather novel. After a few
minutes, Tristan's tool starts to plump. It's a nice sized toy that certainly drives cougars crazy!

"I want to cum on the bed," Tristan says.

He gets on his back and keeps jerking. His eyes are closed and those toes are curling. Tristan is
slightly hesitant when asked to finger himself, but does stick a finger in his hole. That man pussy
looks like it needs a goodly busting. However, Tristan isn't into the finger action so it might take a
wad of cash for it to happen.

He returns all his attention to cumming. His jerking speed picks up. Those fine legs quiver. Tristan's
mouth goes slack as his cum explodes out. The first stream lands in his belly button.

After he calms down, Tristan samples his nectar. He's impressed with the flavor! Good sign, no? LOL!