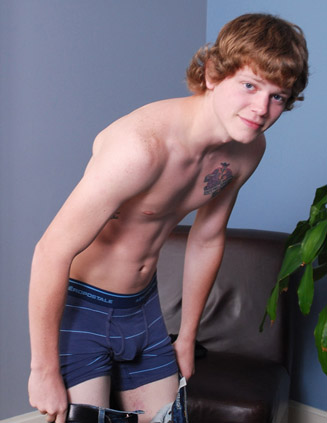 It's easy to fall hard for this week's model. The moment the camera starts rolling Max Flint's big
smile fills the screen. Max has the curliest hair locks and the best dimples around the block. He's
also a gentleman. His jerk off sessions are only once a week. A rather low number, but when
asked if he's "getting a lot elsewhere" he refuses to spill any beans.

"You can say that. Yea," he says with a wide grin.

A man who doesn't brag or tattle. What's not to love?

The BSB studio has Max today due to some bad luck. The 20 year old has some medical bills
because of a motorcycle accident; in this economy jerking off is a good way to earn honest cash.

The black tank-top comes off, and he plays with a nipple. Unfortunately his nips are not sensitive,
but that could be because they haven't been played with enough. He loses all of his clothes, sits on
the bed and starts to stroke.

Soon enough Max gets hard, and it's easy to start watering for his dick. Like him, it's skinny and
long. Our model looks into the camera as he plays with himself. There's no smile, but his sexed up
look says it all. Right now the only thing that matters is a big nut.

The camera zooms in for a closeup of Max's body, starting at the top of his blonde curls and ending
at his feet (you welcome lovers of toes).

He gets on his knees, still jerking. The breathing isn't labored, but the soft moans are proof he's
having a good time.

Max turns nasty, in a good way. There is no lube around so he spits on his dick to keep it wet and
slippery.

When Max first lies on the bed, we get a quick glimpse of his hole. Granted it's brief, but we can
argue about that later. He eventually spreads those alabaster ass checks apart, looking straight at
the camera with a seductive stare. The stroking makes his dick bigger and his increased moaning
are the telltale signs he's about to pop.

Our stud reaches that magnificent discomfort zone we all love; his preliminary blast almost covers
a nipple. The rest dribbles out, landing on his stomach near the belly button.

He flashes another sweet smile. Hopefully he'll return for more.