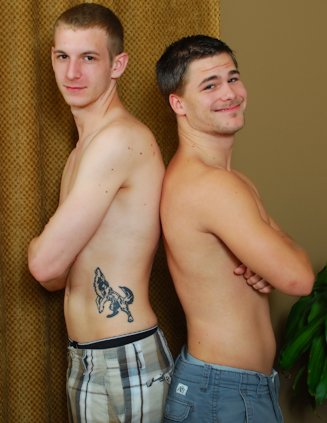 Rex and Jimmy are in bed together today and today is the day that Rex is going to give up his virgin ass to Jimmy's very skilled cock. Even though he is visibly nervous about taking a dick for the first time, and having the event filmed, Rex needs the extra money in order to buy a gun to replace one that got stolen. Both boys started stripping off their undies, playing with their dicks through the cotton material. As they worked their cocks, Jimmy and Rex chatted about their experiences with Broke Straight Boys. Only a minute or two later, Jimmy threw off his underwear in order to free up his dick, Rex following in a moment. Despite his nerves, it didn't take Rex long to get rock hard while with Jimmy, his 'insta-hardon' was working just fine as always.

With both boys ready and raring to go, Rex leaned over and took Jimmy's dick in his straight boy mouth. Right away, the expression on Jimmy's face showed that he was loving the feel of Rex's mouth on his dick, all the while, Rex bobbed up and down on the thick cock. With a hand wrapped around his own dick, Rex showed off some of the skills he had already picked up at BSB as he slid the cock all the way down his throat. As Jimmy moaned in pleasure, Rex took hold of Jimmy's dick, holding it still as he lavished the head with attention. Jimmy was enjoying the blowjob so much, he reached over and started jerking Rex off to show his appreciation. Rex paused for breath, gently pumping the hard shaft and asked Jimmy how it was. Jimmy, with a wry grin, admitted that it was pretty good and better than most. Sliding an arm around Jimmy's waist, Rex dived back down on the cock as I asked Jimmy if he had ever done a 69 with another guy.

Jimmy was somewhat surprised by the question and said that if he hadn't done it before in the studio, then he hadn't done it all. Rex said that he would be on the bottom since he was going to be really bottoming later on anyhow and due to their height difference, it was probably going to be for the best anyhow. The two boys scrambled to get themselves organised, Rex laying down on his back with Jimmy straddling him overtop. Jimmy wrapped his lips around Rex's long cock even as he dipped his dick in and out of Rex's mouth. Despite not liking to suck cock, Jimmy was working Rex's dick like a complete pro, his head bobbing up and down as the head slid in and out of Jimmy's hot, wet mouth. All the while, Rex licked Jimmy's cock shaft and lathed his balls with his tongue. Never soon enough for Jimmy's liking, it was time to get down to the nitty gritty.

Rearranging themselves, Jimmy lay down on his back, holding his cock straight as Rex straddled Jimmy's hips and slowly sat down on the huge dick. Once he was all the way down, Rex, gripping onto the headboard of the bed for dear life, slowly rose up and down on the cock. Groaning from the effort, Rex admitted that while it felt painful, it felt kinda good at the same time. As he got used to the feel of a cock buried deep inside, Rex rode Jimmy harder and faster. Wrapping a hand around his own dick and jerking himself off, Rex moaned that he felt like he was going to cum. Sure enough, Rex spurted just a little but still kept his hard on as he fucked himself on Jimmy's cock. So far, Jimmy was having it easy as Rex was doing all the hard work. Switching things around, in order to give Rex a break, Rex lay down on his stomach while Jimmy lay on top of him. Driving his dick home in one go, Jimmy set a slow but steady pace as he fucked Rex's straight boy ass, his balls slapping loudly against Rex's ass cheeks. All the while, Rex clung to the headboard, moaning as he felt every inch of Jimmy's dick dipping in and out of his ass. Minute by minute, Jimmy pounded Rex's ass harder and harder, wringing deep groans from them both.

By now, both boys were dripping with sweat and it wasn't going to be long before one of the boys announced he was ready to pop his load. Rex held onto the mattress for leverage, his teeth clenched as Jimmy rode him hard. Jimmy pulled out and tore off the condom as Rex rolled over onto his back, both boys ready to show off their money shots. Jimmy and Rex wanked themselves off hard, Jimmy cumming first as he dripped cum down Rex's hip and side. Surprisingly, Rex came at the same time, a rare feat in BSB, the cum dribbling down his shaft and pooling in his shaved pubes.