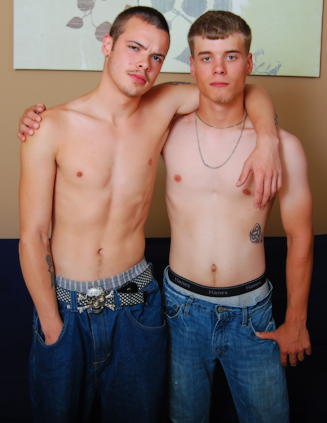 Jack and Jamie are in the studio today for some cock sucking and as they both knew the routine, I told the boys to get started straight away. The boys quickly stripped down naked and with cock in hand, jerked themselves off as they watched the straight porn. As Jack was rock hard first, Jamie was the one to lean over and take the dick in his mouth. Jamie bobbed up and down on the stiff dick, all the while, pumping his own shaft. Despite Jamie claiming to be straight, there was no doubt that he sucked cock like a pro, even deep throating Jack's thick cock with ease when asked. Opening his mouth wide, Jamie slid the cock in and out of his mouth, deep into his throat, choking every now again even as Jack said that Jamie was doing good.

His hand resting on the back of Jamie's head, Jack leaned back and enjoyed his blow job. By this stage, Jamie was sweating from all his hard work while Jack was breathing heavily as he let Jamie work his magic. To mix it up, I had Jack stand up, with Jamie down on his knees in front of him. Jamie went right back to work, lavishing the long dick with his undivided attention. Pausing to pump the shaft every now and again, It was clear that Jamie, no matter what he said, took some pride in his cock sucking skills. Enjoying the hot, wet mouth surrounding his cock, Jack started gently face fucking Jamie. Despite choking each time the head of Jack's cock grazed the back of his throat, Jamie was dedicated to doing his very best and continued on.

I asked Jack how Jamie was doing, Jack answering that he was doing just fine so I then asked Jack if he would return the favour to Jamie for an extra $100. However, Jack wasn't interested until I upped the price for $200, Jack doing an official statement, 'I will suck dick for $200!' The boys immediately shifted into a 69; Jamie laying down on the futon while Jack was on hands and knees overtop of him, both with a cock in their mouths. Right from the start, Jack took to cock sucking like a duck to water, his head gently bobbing up and down as he got used to the taste of his first cock, all the while, Jamie pulled out the tricks with Jack's dick. Jack pulled off for a moment, asking if it was too late to renegotiate the price, even as Jamie piped up saying that he was doing a good job.

As the boys hit their stride, simultaneously sucking and being sucked, Jamie grabbed Jack's ass with both hands and held apart his ass cheeks so there was a great view of Jack's virgin ass. Jamie was really getting into giving the blow job, playing with Jack's balls and wiggling his tongue around the head of the dick. I told Jack he had a nice ass and asked how much it was worth but Jack fired back that it wasn't for sale. Jack was starting to get more confident in how to give a blow job as he tentatively rubbed a thumb across Jamie's big balls. Changing it up a little, Jamie stood up as Jack slid to his knees and swallowed Jamie's cock again. Right away, Jamie started gently thrusting in and out of Jack's mouth even as Jack stroked his own cock. Opening his mouth wider, Jack let Jamie's dick slid back and forth across his tongue with ease. Even though he choked a few times, Jack went right back to work, his own dick rock hard as Jack let himself get face fucked.

Jamie said he was getting close to being able to cum but kept riding Jack's face so I asked Jack if he could try giving a money shot with a dick in his mouth. Setting a faster pace, Jamie was chasing his own climax even as Jack was putting in some fast and furious wrist action of his own. Both boys were dripping with sweat as they worked hard, both getting closer to the end as the minutes ticked by but it was a matter of who was going to cum first. Sure enough, just as he promised, Jack sprinkled cum over his thighs and the carpet even as he had Jamie's cock buried deep in his mouth. Now it was Jamie's turn so Jamie pulled out and started jerking himself off while Jack sat back and stuck out his tongue. Only moments later, Jamie dripped cum onto Jack's tongue stud and down Jack's chin and onto the carpet.