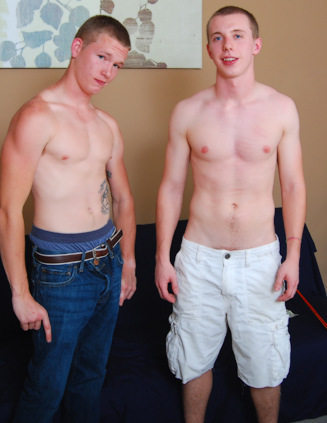 Today, at Broke Straight Boys, we are pleased to introduce, Brett while bringing back Cj. I met Brett when he was fishing in the bay. Brett had lost his job at Subway four months previously and was fairly strapped for cash so I offered him $300 to jerk off with another guy. Brett wasn't too sure about it all but since he needed the money, he was willing to give it a go.

Back at the studio, Brett quickly stripped off naked, revealing a slender but toned body with a well proportioned ass. Sitting back down on the futon, Brett watched the straight porn and started working on getting his dick hard. Just as Brett was starting to get half hard, Cj knocked on the studio door and walked in. Cj sat down next to Brett, clearly taken aback when he saw what Brett was doing. I explained to him what he was going to be doing and just like Brett, Cj wasn't keen on the idea. In the end, Cj decided to go for it, standing up and taking off his clothes. Cj sat down, one hand wrapped around his dick and putting in some hard wrist action as he chatted with Brett about fishing techniques and the red snapper that Brett had managed to land. As Brett picked up the snapper to show it off, I told him to slap Cj on the ass with the fish. Cj immediately protested the idea, however, an offer of $40 quickly changed his mind. Both boys stood up. Cj turned around and Brett gave him a slap on the ass but I told him to do it again, but this time, harder. Ultimately, Brett gave him two more smacks on the ass, both boys laughing hard.

Cj and Brett sat down on the futon, both jerking themselves off as they started to get hard. Cj's balls bounced up and down as he stroked his long dick while Brett massaged his own balls as he hardened. I told them, if they jerked each other off, I would give them an extra $200 each. Cj and Brett hated the idea, however, they couldn't deny the lure of easy money and despite their grumbling, each reached over and took the others dick in their hand, slowly sliding their hand up and down the shaft. Surprisingly, Cj, who had protested the most, admitted that Brett's hand on his dick felt 'kinda' good. As they jerked each other off, I asked them if either of them had sucked dick before and offered them another $300 each to try it. Both boys instantly went back to fisting their own dicks, saying that no amount of money would get them to suck dick. However, Brett came up with a figure of $600 to do but accepted $550 while Cj was going to get $100. The deal done, Brett leaned over and wrapped his lips around the tip of Cj's cock, sucking it softly as he got used to the taste of a dick in his mouth. Right away, Cj was moaning in pleasure as Brett went about performing his first blow job. Brett was doing so well, Cj wondered aloud if it really was Brett's first time.

Placing his hand on the back of Brett's head, Cj pushed down as Brett went deeper on his dick. For a cock sucking virgin, Brett was doing a great job and it looked like Brett was liking the feel of a dick in his mouth more than he had expected. Experimenting a little, Brett attempted a deep throat, making Cj moan all the more. Brett pulled off every now and again, pumping the long shaft as he rested his jaw. I asked Cj if he thought Brett could make him cum, Cj replying with a breathless 'yes!'. Brett wasn't too sure about the whole thing and sat back, playing with his half hard dick even as Cj started wanking off at a fast pace. Another $50 changed his mind so Brett got down on his knees while Cj stood in front of him. Sucking the hard cock back into his straight boy mouth, Brett went right back to work even as Cj couldn't help but watch what Brett was doing. Alternately massaging his balls and thrusting into Brett's mouth, Cj said he was close to cumming. Moments later, Cj took control of his cock again, jerking off furiously onto most of Brett's torso.

Now that he had climaxed, all Cj wanted to do was grab his money and run. I could see that there would be no convincing him to stay so I let him go. As Cj got dressed, Brett sat on the futon and worked his cock into full hardness. It didn't take Brett long to get rock hard, his hand flying up and down along his shaft. After a few minutes, Brett shot all over his chest, the cum dribbling down to his stomach.