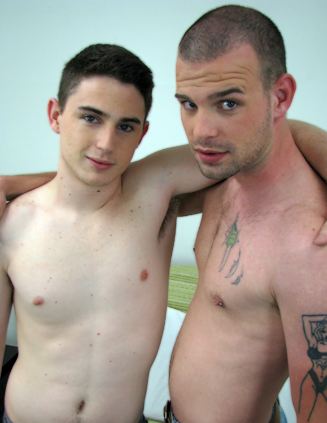 Broke Straight Boys is very lucky to have back both Aiden and Tyler. They are in the studio today to film a follow up to their oral shoot; an anal scene. While Aiden has bottomed for other studios, he will be topping today which means, Tyler is bottoming. Tyler is never that keen on bottoming, however, once into it, the expression on his face tells the real story. I told Aiden that he would be getting $1000 for topping and that Tyler would be earning $1500 for taking such a big cock.

Both boys stripped off naked while sitting on the futon and as I turned on the porn, without any preamble, Aiden leaned over and starting blowing Tyler. Aiden slowly slid the cock in and out of his mouth, putting his hard earned skills to use. Tyler was hard as a rock only a minute or two later, Aiden obviously working him just right. Aiden deep throated Tyler's cock, making him gasp even as Tyler was wanking him off. They swapped; Aiden sitting back while Tyler went to work on the huge dick. Tyler soon had Aiden moaning for more as he bobbed up and down. Aiden, watching Tyler intently, wrapped a firm hand around Tyler's cock and jerked him off even as he gasped each time Tyler twisted his head from one side to the other.

Finally, they were both ready to fuck. After opening out the futon and getting themselves ready, Tyler got down on his elbows and knees on the futon while Aiden knelt behind him. As Aiden fingered more lubed into Tyler's tight ass, Tyler confessed that the last time he did anal for BSB, it was with Dustin. As Tyler was extra tight, Aiden had to really push into him, slowly but surely, Aiden went all the way in. Aiden let Tyler adjust for a moment before gently rocking back and forth, each thrust wringing a grunt from Tyler. Soon enough, Aiden was able to go a little faster, pulling Tyler off his elbows and into a kneeling position where Aiden kissed Tyler's shoulder blade in the hopes of getting a reciprocal kiss but Tyler wasn't up for it.

Tyler flipped onto his back, groaning in discomfort as Aiden slid right back in. Complaining that Aiden's dick needed a 'wide load' sign, Tyler pulled on his own dick as Aiden went right back to pounding his ass. Moaning, Tyler wasn't sure if he was feeling pleasure, pain or the sweet combination of both, Aiden showing that he had stamina as he rode Tyler hard. A slight change of position for them both and Aiden literally fucked the cum out of Tyler as he shot far and wide, cum splattering over his upper body and even hitting himself on the forehead. Aiden pulled out and moved to kneel by Tyler's side, obviously turned on by seeing Tyler shoot. Pulling furiously on his cock, Aiden soon added to the cum on Tyler's body, a steady stream spilling over Aiden's hand and onto Tyler's chest.

Obviously well fucked, Tyler said he was 'numb' while Aiden just laughed. Both boys did a great shoot; Tyler proving he could take a huge cock without problems and Aiden showing that he had plenty of stamina to spare. Hopefully, I can get both boys back into the studio in the not so distant future.