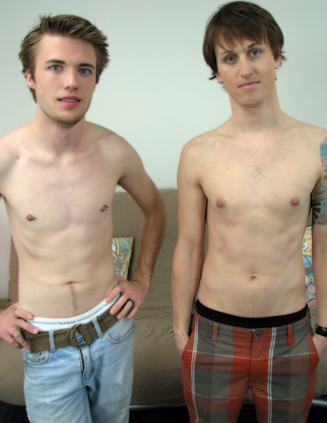 Today at Broke Straight Boys, we have Daniel and Price back on the futon. After his solo scene, it's time to introduce Price to some cock sucking, and luckily, he has Daniel to teach him the ropes. Price wasn't keen on doing the oral scene and his reluctance led to a lengthy discussion about how much he should be paid. While Daniel was happy with $500 for doing oral, Price wanted more as it would be his first time and even said $1000, which of course, I immediately shot down. In the end, I said I would give them both $600. The boys stood up to take off their clothes, leaving their underwear on as they discussed nipple piercings. Deciding upon some bi porn, Daniel and Price started to get themselves hard. A moment later, Daniel was ready to start sucking cock so Price threw his underwear on the floor, Daniel reaching over and wrapping a tight hand around Price's half hard cock and slowly jerking him off. It was obvious that Price, despite his joking around, was quite nervous but once Price was a bit more relaxed, Daniel leaned over and took the hard cock in his mouth.

Daniel sucked on the very head of Price's cock as he rotated a tight hand around the hard shaft, all the while Price had his eyes closed even as he gently thrust up into Daniel's mouth. Sliding to his knees on the floor, Daniel licked up and down the cock shaft as he gently squeezed the tight ball sac which only made Price squirm around on the futon in pleasure. As Daniel worked the dick hard, Price admitted that it was pretty good. Daniel was proving to be an expert cock sucker as he had Price grinning widely and moaning for more even as started thrusting up hard into Daniel's busy mouth. Price even got dominant with Daniel, grabbing his hair and forcing him to take all of his cock, Daniel agreeing when Price asked him if he liked it. Heedless of his knee injury, Price knelt up on the futon with Daniel laying in front of him and started to fuck Daniel's face.

I had to suggest that they switch as it was clear that Daniel was enjoying himself too much. Daniel sat back down on the futon as Price knelt beside him, and in a few hesitant moves, Price finally had his first cock in his straight boy mouth. With a hand on the back of Price's head, Daniel set a slow pace as Price bobbed up and down over Daniel's cock. It wasn't long before Daniel was doing some dirty whispering as Price got familiar with a cock in his virgin mouth. Price was taking to dick suck like a duck to water, experimenting on how to angle his head, licking up and down the hard shaft and even paused to ask Daniel if he liked what Price was doing; Daniel, of course, immediately agreeing that he did. Price was getting right into it, repeatedly glancing up at Daniel to see if he was doing it right even as he kept jerking himself off. Kneeling in front of Daniel, Price treated the stiff dick like his favourite candy.

All of a sudden, Daniel announced he was close so Price pulled off, stroking Daniel's cock until he climaxed, great spurts of cum hitting Daniel on the chest and stomach. Now it was Price's turn to get off. Price straddled Daniel's lap, shoving his cock into his open mouth and thrusting in hard. It was an awkward position so Price stood up, Daniel kneeling in front of him and swallowing down the hard dick again. Price was moaning for more as Daniel sucked on the very tip of his cock while fingering behind Price's balls. He sat back down on the futon, Daniel still kneeling on the floor as he sucked and licked Price's tight ball sac. Price took control of his dick, jerking himself off as Daniel fingered his ass. Cum shot all over Price's chest and stomach before dribbling into his pubes. Price was shocked at how much he had enjoyed his first boy-on-boy experience with Daniel. I know that Price is desperate for money, along with Daniel so I'm sure I can get them both in for another shoot and this time, they will be going all the way... it's just a matter of who is doing what!