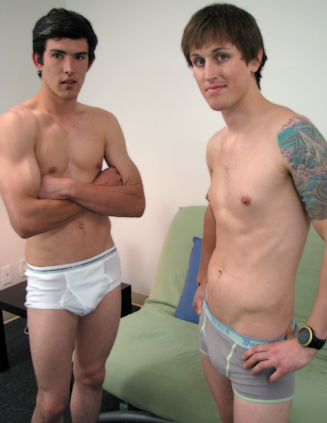 Broke Straight Boys are pleased to welcome back to the futon, David and Price. This is David's second time on the futon while Price has been in the studio a few times before but is still a relative newbie. Both boys agreed on $600 as a fair price for oral, however, neither of them wanted to go first but after a bit of to-and-fro, it was decided that whomever got hard first would get head first. I told them to stand up and get undressed, getting them to leave their underwear on for a moment and to turn around and show their asses to the camera then to take them off. With the straight porn playing, the boys sat on the futon and played with their dicks, working on getting hard.

It didn't take long for David to get hard, his dick growing long and thick which meant that Price was giving head first. Shrugging, Price gave David's dick a few hard pumps before sticking the dick in his straight boy mouth. David, eyes closed, leaned back into the futon and relaxed into the blowjob that Price was enthusiastically performing. Panting slightly, David admitted that Price was doing a great job. As Price slid down to his knees in front of him, David couldn't help but keep sneaking peeks at Price. Price was getting right into giving the blowjob; turning his head one way and then the other and massaging David's balls before getting daring and deep throating. David was loving Price's oral skills so much, his hands were clenching at the futon. Price was somewhat reluctant to pull off from David's cock when I suggested they swap over as it looked like David was about to climax. With David still sitting on the futon, Price straddled his lap and shoved his cock down David's throat, taking him by surprise. Price eased back a little, reaching down and stroking David's dick even as he allowed David to get used to a dick in his mouth. Slowly, David slid the hard cock in and out of his mouth, not quite sure of the taste of cock but brave enough to lick the tip and swirl his tongue along the slit.

Eager to get back to sucking cock, Price bent down to show David how to give a blowjob like a pro. David was gasping for more as Price's head bobbed up and down over his cock. Reaching under Price, David grabbed onto his dick and started jerking Price off even as he started thrusting up into Price's mouth. Price was getting totally turned on by both giving the blowjob and having David's hand on his cock and I was sure he was going to cum almost any second. Meanwhile, David was also getting into it as Price was obviously giving him one hell of a blowjob. With a hand on the back of Price's head, David made him to go deep for a few moments before Price broke off to give the hard cock a few good pumps and going back down again, all the while, David kept tugging on Price's dick.

All too soon, it was obvious that David was the one who was going to come first. Price started jerking David off with a tight grip, David spurting cum over his chest and into his pubes only a moment later. Now it was Prices turn to shoot, however, he decided that David wasn't finished sucking his dick so he straddled David's lap again and slid his cock into David's straight boy mouth. This time, David was a little more prepared and wrapped a hand around Price's dick even as Price gently thrust in and out of his mouth. It was a somewhat awkward position but Price reached behind himself and started giving David a hand job as David was still hard as a rock despite cumming only moments earlier.

Price started face fucking David hard however, it was too awkward so Price sat on the futon with David kneeling in front of him, slowly sucking on just the head of the cock. All the while, Price was jerking him off, moaning as he enjoyed the feel of a hot, wet mouth on his dick. As Price got close to cumming, he started thrusting up into David's mouth, causing David to choke on his dick. Price took control of his cock, putting in some hard wrist action even as David kept licking at the cock head as if he couldn't get enough of it. A few moments later, cum splashed onto Price's stomach and pubes.

Both boys did an amazing job in this scene and while Price is already a convert to the cock, it remains to be seen if David is as well. Keep an eye out for them both in future episodes.