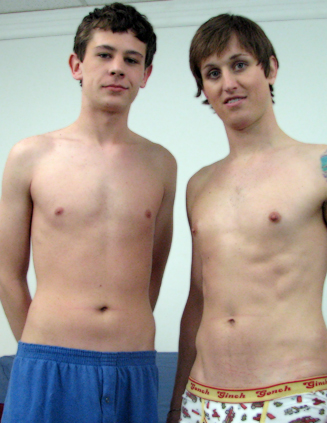 Kyle and Price on the futon today and they are here in the studio to film an anal scene. As we all chatted together, Price revealed that he had a girlfriend and that he liked her to play with his ass. While Kyle has fucked girls before, this would be his first time fucking another guy and is a little nervous. I asked Price why he prefers to bottom and he said that fucking another guy didn't turn him on, much like Ashton, and that bottoming had it's benefits. In the end, Price settled for $1500 while Kyle was going to get $1000.

With the price decided, both boys stood up and stripped off naked, Kyle peeking at Price a few times. They sat back down on the futon, Price and Kyle playing with themselves as they watched the straight porn. Kyle was as hard as a rock almost instantly, which meant Price was the one who was going to give head first. With a sigh, Price opened up his mouth, leaned over and slid the hard dick into his mouth. Kyle was loving it right away, pushing down on Price's head to place him to go deeper, laughing when Price choked on his cock. When Price came up for air, I couldn't help but comment on the size of Kyle's dick but Price went right back to sucking cock, his head bobbing up and down as Kyle panted for more.

Trying to deep throat again, Price gagged before deciding to stick to sucking just around the head of the cock. Price stated that Kyle had a big dick so I got Kyle to stand up and show it off for the BSB members who also got a great view of his low hanging balls. As he stared at Kyle's dick, it was obvious that Price was having second thoughts on if he could handle the size. Still, Price, on his knees in front of Kyle, went back to working hard on the long dick with enthusiasm. He was so into it, he tried to shove it all down his throat but as before, he choked on it before he was finally able to get his nose right into Kyle's bushy pubes.

Finally, both boys were ready to fuck. With the futon pulled out and the boys prepared, Price got down on his hands and knees while Kyle knelt behind him. Price reached around behind himself and guided Kyle's cock into his tight ass, gasping as it inched it's way inside of him. Starting off slow, Kyle took a little while to get into a regular rhythm, all the while, Price panted and moaned with each thrust. Wincing at how deep Kyle was going, Price nonetheless told him to just keep fucking him. Soon enough, Price's discomfort turned into pleasure and it was clear he was enjoying a dick up his ass. Still, he couldn't help but yelp at one particularly hard thrust and wiggled away so that Kyle slipped out.

Price turned over onto his back, Kyle kneeling in between Price's spread legs and fucking him like a girl. Right away, this was a better position as Kyle was able to get a good speed and rhythm up while Price was finding it much more pleasurable. Kyle was able to punish Price's ass, pounding away without mercy. Pushing Price's legs up and over his shoulders, Kyle was able to go really deep, wringing a groan from Price on every thrust. The new position was really intense for Kyle and he soon had to pull out before cumming in the condom. Mixing it up a little, Kyle sat on Price's chest and wanked off furiously, spraying Price's face, neck and upper chest with cum.

Now it was Price's turn for the cum shot and Kyle, surprisingly, offered to finger him to help him along which Price readily accepted. Although I offered him a toy to use, in the end, he preferred Kyle's fingers up his ass. So with a condom over two of his fingers, Kyle slipped them up into Price's ass and massaged his prostate, all the while, Price stripped his dick in long and hard strokes. Price writhed around on the futon, loving every minute of Kyle fingering him and it wasn't long before Price climaxed, cum splashing over his chest and stomach. Both guys did a great job and I know that they will be in front of the camera's again very soon!