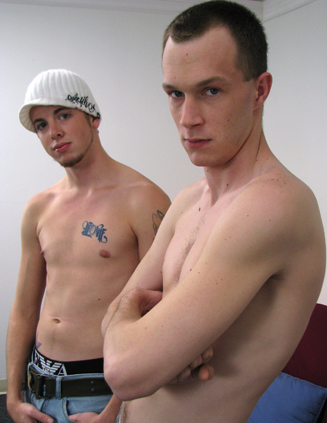 Broke Straight Boys is very pleased to welcome back Steven, one of our models who appeared on BSB quite a while ago. Last time he was with BSB, he was trying to earn some money for his family as his house had just burnt down. This time however, I brought him back as a lot of our members were requesting a follow up on Steven, plus, Steven needs to buy a new car. As it's been such a long time since Steven was in the studio, I told him that we were going to start him off slow for today and that it would be an oral scene with Mike R.
Mike knocked on the door and walked into the studio, immediately introducing himself to Steven. With a price of $500 each for oral, Mike said his money was going towards tattoo school. Mike took off his jeans, showing off the tattoo's on his legs, pointing out which ones his friends had done for him and ended up stripping off to his underwear while Steven did the same. With both boys sitting on the futon and the straight porn playing, it was time for them to get their cocks hard. Underwear taken off, Mike and Steven worked on their dicks, Steven volunteering to suck cock first. It wasn't long before Mike was rock hard, Steven leaning over and taking the thick shaft into his straight boy mouth as he stroked himself off.
Being a true straight boy, Steven lacked finesse in giving head but once committed to the act, he gave it his best shot. His head bobbing up and down as the cock slid in and out of his mouth, Steven wrapped a hand around Mike's shaft, pumping the thick dick every now and again. His knitted cap still on, Mike watched in fascination as Steven worked hard on his cock, Mike grinning and telling Steven just how he liked it. As Steve got used to the feel of a cock in his mouth, he tried a few different techniques, all the while Mike panted for more and told Steve to lick his balls while jacking him off.
It was time for Mike to return the favour for Steven. With Steven leaning back into the futon once more, Mike took Steven's dick in his mouth while Steven jerked off Mike at the same time. Right away, Mike had Steven moaning as he put his talents to use in getting Steven rock hard. However, Mike pulled off and asked if Steve was ok as he wasn't the least bit hard, Steven admitting that having sex with another guy just isn't his thing and that even the last time he was at BSB, he had had problems getting hard. Mike just sat back and said that Steven could go back to sucking him off. Steven swallowed down Mike's dick again even as Mike pushed down on his head.
Steven got right into the dick sucking, getting Mike hard as a rock again in a matter of seconds. All too soon, Mike said he was ready to cum and with Steven's face only an inch away from his dick, Mike jerked off hard. Suddenly, cum splashed over Steven's face, even landing on his mouth. Due to Mike being able to cum, he got his full $500, however, Steven missed out, although, at Mike's prompting, I did admit that I was going to give Steven something for taking the facial as well as he did. Despite the hiccup, it was still a hot shoot and I hope the BSB members enjoy it.