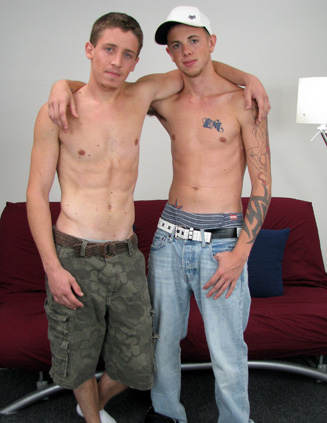 Today at Broke Straight Boys, we welcome back Mike R and Leon for their second shoot. In their previous scene together, they did oral so today, it was time to up the ante and get one of these straight boys to bottom. Mike decided for us by declaring he was the one who was going to be topping, thus, leaving Leon to bottom for the first time. It was obvious Leon was somewhat nervous about how it was all going to go but once we agreed on a price, Leon getting $1200 and Mike getting $1000, he was ready to get his cherry popped.
I got the boys to strip down and start getting hard while they watched some straight porn. Like always, it only took Mike about a minute before he was as hard as a rock so I got him to lean over and start sucking on Leon's cock. As Mike was working hard at getting Leon's dick erect, deep throating him and sucking on just the head, Leon stated he had never fucked anyone in the ass before, not even his own girlfriend while Mike threw in a few comments as well. Mike and Leon had great chemistry together and even though it was just the start of the shoot, I knew that this was going to quickly become a BSB members favourite. Once Leon was hard, I got him to swallow down Mike's prick and show us all how much he had picked up from Mike. He had obviously taken a bit of notice during the previous shoot as he had Mike moaning for more pretty quickly, Mike being ready to fuck a few minutes later.
The futon opened up and Leon positioned on all fours, we did something a little different; Mike finger fucked Leon to loosen him up. You can see Leon actually relaxing into it and it wasn't long before he was ready. The boys decided to do doggie style first, Mike slowly pushing his big cock into Leon's super tight virgin ass. Because Leon was so tight, Mike was made to go extremely slowly, all the while Leon groaned, obviously in a bit more pain than he expected. They switched to Leon on his back, legs on Mike's shoulders as Mike sped up his thrusting. The new position was better for Leon and despite the occasional grimace, it looked like Leon was starting to get into the fucking, even tell Mike to 'fuck that ass!'
Mike said he was about to cum and pulled out and with one or two pumps of his hand, he liberally sprayed Leon all over his upper body and face, Leon amazed at how much there was of it. It was time for Leon to give us his cum shot and he did well, jerking himself off fast, the cum dripping over his hand and thigh, all the while Mike watched with interest. I asked Leon how did it feel for his first time receiving anal and he admitted that while there was some pain, there was also a bit of pleasure as well. This is one very hot shoot, not something anyone should miss watching and I really look forward to getting the boys back for another scene very soon.