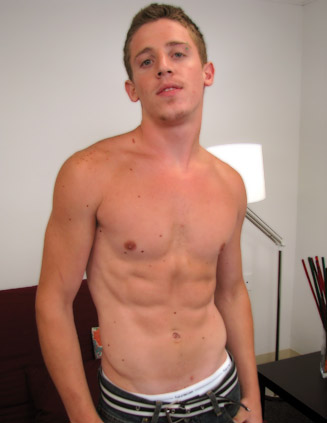 A recent ad that we placed in a newspaper has been bringing in some great models that look hot, will do a bunch of work, and extremely desperate for money. The latest boy to come into the studio for a casting couch solo scene was Leon. He's a 19 year old, straight boy that needed to get his hands on some money to pay the bills. I broke the news to him on the phone when we went over all the details that we were a gay owned and operating studio. While we did have some girl work that we could put him in, we also had some gay work as well that paid a lot more. However, he had to do a solo scene as a test to see how well he would do in front of the camera and also to see his overall look. When he showed up for his shoot, he took a seat on the couch, and started with a question/answer session. Leon has been floating from job to job, and he figured that maybe doing porn would help to pay the rent. Even though the solo was only going to pay him $200, he would then go on to doing shoots with guys or girls. When I asked him if he would want to go with guys or girls? Leon had a nervous laugh, just expressing that he really didn't want to say the wrong answer. However, thinking about it he responded by saying that he would prefer girls, but we could talk about doing things with guys depending on the pay.
I wanted to go ahead and get a peak at Leon's body, so I had him stand up for me and take off his shirt. Stripping out of it, he revealed a very tone, lean upper body, with a washboard stomach, pecs, and back muscles that stood out. While he was taking off his pants, Leon said that he was 5'9", 150 pounds, size 11 shoes, and waist size of 28. Showing off his white briefs, I had him spin around to show his ass. Pulling the back of the underwear down, he revealed that he had one of the perfect asses that I have ever seen. Stepping in closer, I had to get a better look, the ass was all muscle, round to cup in a hand, and not too big, but not too small. I even felt it for a brief second before giving it a couple of slaps. That might have embarrassed Leon a little bit, but I wanted to give him a compliment. He said that he was just blessed with his ass, because he doesn't really work his ass out. Turning back around to face the camera, Leon said that his dick was cut. He pulled his underwear down to show his dick, I stepped back in towards him and felt his dick a little bit. I reached in his underwear to touch it some more, feeling with my fingers how soft and hard it was starting to become. I told Leon that he could take a seat and we could turn on some porn. Bring up the type of porn he liked, he said that he liked to watch some bondage and feet videos. Two really kinky fetishes to have, with one of them having him tied up, while the other one had him sucking on girls toes.
Leon peeled off his socks and I had him even play with his feet for a second to just show us what he likes to watch himself. One of the ways he started to play with his dick was by rubbing his hand up and down the side of his dick. I told Leon to make himself comfortable on the couch and just do whatever he does at home when he jerks off. Taking his underwear off, he got some lube in his hand and started to stroke his cock. He positioned himself so that he was halfway lying down and sitting on the couch. As he pumped his dick faster and harder I noticed that it was now more of an up and down motion. Also that as he did it, his abs would contract and tighten to show them off. HOT!! They made anyone want to rub and lick them for sure. Every muscle in his body was getting tighter, between his upper body and his thigh muscles my eyes went from head to toe. Lifting his arm up behind his head, his bicep muscle was big for his size showing off his work at the gym, and he had good looking armpits as well. Leon started to breath really heavy, and his skin got bright red. Letting out some moans, shots of cum landed on the couch, his hand, and stomach. He played with his dick afterward for a few seconds until he opened his eyes. I asked how he felt about the camera, and he said that the camera just kind of disappeared after a while. He wanted some more work, and said we would have to talk to see about his comfort levels after the solo. I told Leon to get his clothes back on before he got the staff all turned on.