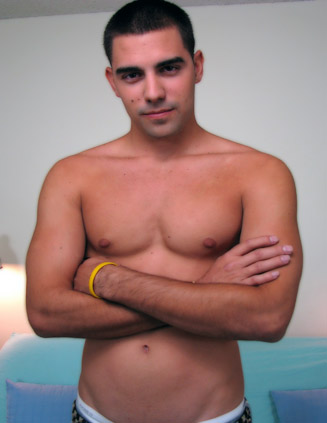 One day I got a call from Tyler one of our most popular models here on Broke Straight Boys, and he said that he had a cousin named Chase that was very interested in giving porn a shot. I told Tyler to have him give me a call to see about setting up a solo shoot. It was only a couple hours later that I received a call from Chase, and we talked for a few minutes before we setup a time for him to come in the following day. When I opened the door Chase was standing in front of me 6'5" and I invited him in to take a seat at one of the table to start filling out some paperwork. After he was finished I showed him to our shoot room to take a seat on the couch. Starting the filming I asked Chase if he was feeling nervous and he told me only a little. He is straight, has a girlfriend of 8 months, and is 20 years old. When I had him share why he wanted to try porn, he responded by saying that he messed around with Tyler and from there he was a little curious about trying more.
I explained to Chasen that he was going to do a casting couch type shoot, just so we could see how well he would do. He would make $200 for doing the shoot and from there we would invite him back to do more work for more money. To get things moving I had him stand for me to show his size, and asked for his shirt to come off. Right away, from the chest muscles that he had, the nice stomach and V lines anyone could tell that he took care of himself. Chasen said that he spends 5 days in the gym, and loves to workout. On both of his sides he had some stars tattoos, and said that they represented changing his life around. Chasen took off his size 14 shoes, which made me curious about the length of his dick. When the pants came off, Chasen had on a pair of white briefs, and I had him turn around to show his ass to the camera. That boy had a very nice set of buns, and I had him spank it once to show how well it would giggle. I explained to him how things were going to work, and from there he took a seat while I turned on some porn for him to watch.
Taking off his underwear, I wanted to see how hung Chasen was, and he said that his cock gets to 9 inches. Starting to jerk off he pumped his dick up and down and one thing that caught my attention was how much he moved his legs around. As he stroked and made himself comfortable it just took some more time for his dick to get hard. I could tell that he was thick and when he lifted one of his feet up on the couch giving me a perfect shot of his asshole. However, he didn't keep his leg up there for long, before taking it down. I had Chasen stand for me to give a different angle of looking at the size of his dick. I reached out to see how Chasen would react to a guy touching him, and he was fine with it. Handing him the lube bottle to put next to his dick to compare, it was pretty much the same size. I asked if he was ready to cum, and he said not really. Chasen licked his armpit in the heat of the moment, showing that he had a kinky side. I asked if he could suck his own dick, and as he bent down to try he actually was able to lick the tip of his own dick. After that he only had to stroke for about another minute and he started to orgasm. Breathing really heavy, and moaning he was about to shoot his load. When he came cum shot up the middle of his chest a couple of times, relieving himself after his four day build up. I told him that I would have to call Tyler to thank him for a great referral, and would definitely bring him back for some more work soon.