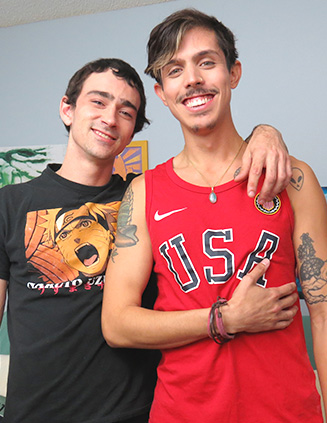 Cody and Mikey spend a moment connecting over their joint anime fandom, allowing the tension to build as they make plans to watch some episodes together after this sexy scene. In a short time, they are seated side by side on the bed, touching each other's members through their jeans. Kissing gently and slowly, feeling the hard cocks caged by zippers. They removed their shirts, then Mikey eases Cody's mind as he makes the first move - taking Cody's pants off and massaging his cock through his underwear. The amateur lays relaxed against the pillow. Mikey removes his own pants and begins kissing Cody and fondling his crotch simultaneously, anticipating what lies beneath. Nice and slow, he pulls Cody's large cock out from under the strap of his underwear. He places his mouth on the tip, struggling to get his lips all the way around the thick dick.
Pumping his hips against the bed and into Mikey's mouth, Cody breathes heavily as Mikey consumes as much of his cock as can fit. Mikey slides the underwear down off Cody's legs and and returns to fulling enveloping the massive cock with his hands and lips. He plays with the tip, sucking on it gently yet hungrily. Cody rests his hand on the back of Mikey's neck, leaning into his bircuriosity even further. Cody is now tasked with getting Mikey's cock hard enough to stick deep into his ass. Therefore, Cody begins to suck Mikey's dick as Mikey holds the base and cradles his balls. Cody jerks his own cock, remembering Mikey's mouth on him as he deepthroats this long cock. "You like that dick?" Mikey questions. Cody replies with a moan and a choke, sliding MIkey's cock further into his throat.
Covered in spit and completely erect, Mikey's cock is ready to initiate a newly-anointed asshole into the elite Broke Straight Boys club. Cody, too, seems ready to take this fine penis, if even a bit hesitant. Cody's startled moan is loud as Mikey slides his cock into his ass without a condom - the pleasure and pain combining in Cody's tight hole, as Mikey demands he arch his back to get full range of motion. Cody's arrested moans get louder. Mikey fucks harder, Cody's own stiff cock rubbing gently against the mattress as Mikey fucks him from behind. Mikey continues to dominate, pulling Cody's body into his with each thrust - getting as deep as possible into this amateur asshole.
Cody's breath catches as he is pounded deeper, his body lurching when the pleasure gets too much for his poor ass. "Come on, take that." Mikey demands as he puts his finger in Cody's mouth. He is on his back now, getting it deep from his experienced partner. Cody tugs his own cock, teasing the head while Mikey rhythmically pushes into him. The newbie holds his breath in between thrusts, moaning, inviting Mikey's hands to wrap around his neck. Cody rubs himself harder, feeling MIkey's cock pressing against the inside of his body. Mikey enjoys the sensation of Cody's tight asshole, too. So much that he is built up, orgasming, quickly pulling out and finishing by spraying cum onto Cody's stomach. Pent up for a week, Cody's hard cock is ready to cum, too. With his head on the pillow, Cody's sense memory pulls into focus the feeling of Mikey's long cock shoved into his ass, and white hot cum pours from his huge cock onto his stomach, ending his first sexy video with an explosion.
Please comment on the bottom of the page so we know if you enjoyed this scene, thank you.