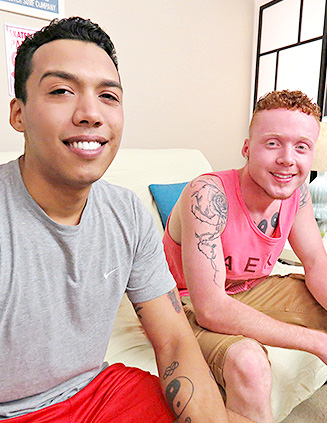 As soon as the boys walk in the room, Jordan wants a piece of Charlie. He grabs Charlie's shoulders, pulls him in for a kiss, then pins him against the door and starts playing with his chest. Charlie likes the attention he's getting, and wants to show his appreciation with his new oral skills. When Jordan gets Charlie on the edge of the bed, he starts sucking his dick, planting his face in Charlie so he can take it deep in his mouth. Charlie is delighted, and returns the favor by trying his hand at it.
"Don't be shy, it's alright" Jordan says as Charlie slowly works his mouth on Jordan's dick. As he gets more used to it, he makes Jordan moan in pleasure. Charlie then stands up and bends over while Jordan grabs his ass and shoves his face in it. Jordan rims him good for a while, and you can tell that he's an ass man. He convinces Charlie to ride him, and gets on his back while Charlie lowers himself on to him.
Jordan loves Charlie giving up his ass to him and riding him. When the boys switch positions and Jordan mounts on top of Charlie, we really see his dominate side come out as he pounds away. Charlie grunts in pain and pleasure as he takes it harder. "Yeah, good boy! Take that dick" Jordan says as he thrusts faster. When he reaches his breaking point, Jordan pulls out and fires off a load that lands on Charlie's face. Then Charlie pulls Jordan in closer and cums on his shoulders, before sealing the scene with a kiss.