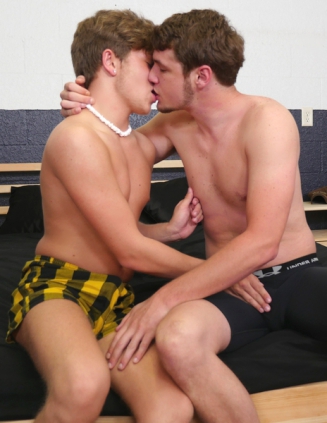 James Andrews and Brody Lasko are back by popular demand, and we're expecting James to step up his game if he wants to come back and make some more cash. Brody is here to help him be more open to the experience, and they get things started with a sexy makeout session. They keep their lips locked while they slide their pants off and start rubbing each other's junk, grabbing those cocks through their boxers until finally we get some oral!
Brody kisses his way down to James's eager dick, taking it in his mouth and deepthroating it until his eyes water while James tries to shove it even deeper. After Brody's throat is coated in precum, he expects the same from James and gets his cock sucked next, followed by a finger up his ass as James gets a little adventurous and fingers Brody's hole before sticking his dick inside!
Brody spreads his legs wide open for James, who slides his bareback prick balls deep into Brody's tight entrance, fucking him doggy style, on his back, all sorts of sexy positions as they both moan and thrust. While Brody is riding and grinding on James's dick, he drains his cock onto James's chest and then gets James's jizz sprayed all over his ass!