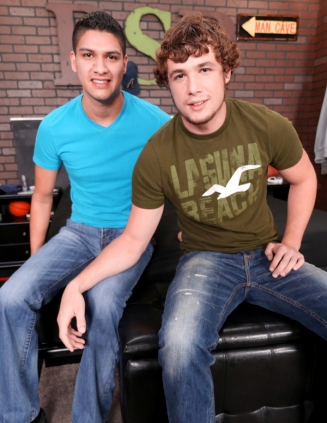 James Andrews is still unsure about fucking a dude, but we've got to break him in somehow! So he's here with Ricky Evans, helping him to get comfortable with sucking cock and fucking ass. James tries giving Ricky head, but it doesn't go so well for this newbie, so Ricky shows him how it's done, kneeling down and giving him oral so that he can learn first hand.
Once Ricky has given him a good lesson, James tries again and does a little bit better, able to at least keep that dick in his mouth without gagging on it. But Ricky suggests something that James might be better at: fucking, and James agrees to give it a shot. Ricky gets on his back and spreads his legs for James, but once James starts to put his cock into Ricky's hole, it's a tight fit and Ricky moans in pain as James buries himself deep inside of Ricky's ass.
He starts thrusting, fucking Ricky as he plays with his dick, stroking it until he shoots his load onto himself and the floor. But James likes that ass, and he isn't done with it yet! He bends Ricky over the bed and takes him again, pounding him a little longer until he's ready to cum, then pulls out and explodes all over Ricky's back!