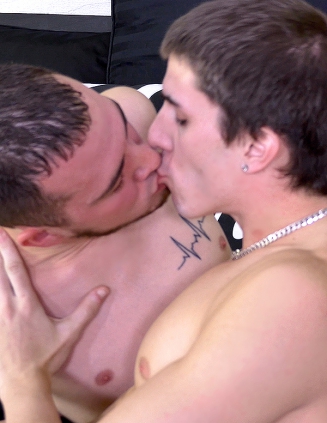 Damien Kyle and David Hardy just can't seem to get enough dick and they keep coming back…but we aren't complaining, because these boys know how to fuck and we like it! There's no need for formalities here, they rip their clothes off and Damien pushes David onto the bed and goes right for that sweet dick, working that meat with his mouth as David fucks his face!
Damien gets some oral next, letting David have his way with his big prick before he pushes David onto the bed, licks his feet and goes back for seconds on that cock, 69ing, rimming, fingering, then finally to the fucking! David lubes up his bareback dick and slowly enters Damien, pumping him full of his rock hard cock as Damien's ass stretches to fit David's throbbing dick!
He fucks him hard and raw, doggy style, riding him, any way he can get to that ass is fine with David as long as he's buried in Damien's tight little hole. Damien strokes his own dick, his muscles tensing as he gets closer to shooting his load until finally he cums all over himself with David's prick still deep inside him. David pulls out and busts a nut right onto Damien's asshole then fucks him with the cum a little before these boys call it a night!