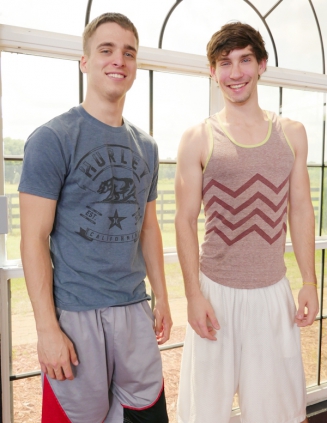 Abram Hoffer and Brady Bennett, neither of these fine boys have bottomed yet, and one is a little more willing to give it a try than the other…we'll see what happens! The kissing and make out session is intense, and our guys swap spit for a while before they're finally bare naked and on the bed, Brady's mouth wrapped around Abram's thick meat.
Brady sucks that dick with surprising expertise for a newbie, and Abram returns the favor, licking and sucking the shaft and head of Brady's long cock. When they're both hard and past the foreplay, Brady knows what's coming and he climbs on the bed, legs spread in the air and Abram entering him slowly while Brady moans in pain.
Abram stuffs Brady's virgin ass full of his bareback prick, going balls deep before pulling out and starting the motion again until Brady loosens up and relaxes his tight little hole. They try a couple more positions, giving Brady a run for his money, but each position seems a little easier as his ass stretches around Abram's rock hard dick until he jerks his cock and cums all over the floor. Abram's not far behind him, literally, as he busts a nut onto Brady's back and ass!