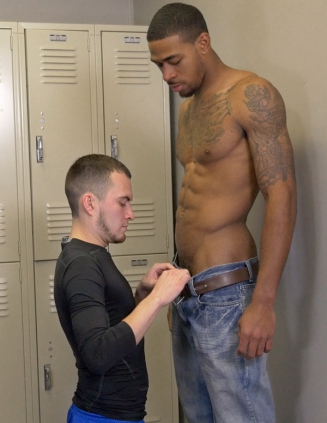 Newbie Brice Jones is the first to get naked in this sexy scene, and David Hardy knows just what to do with that hot, naked man! He gets on his knees in front of Brice and sucks on that dick, using his hand and mouth together to give Brice the ultimate pleasure. David gives him oral good enough to make that cock hard in no time, and Brice pushes David's head farther down his impressive dick, giving him no choice but to deepthroat his cock.
At some point during all this cock-sucking, David loses his pants and ends up naked underneath Brice on the workout bench, getting his face fucked and enjoying every minute of it. After Brice's massive cock has had enough attention, he turns his ass to David and lets him give him a rimjob, circling Brice's tight hole with his wet tongue while he reaches around and jerks his dick at the same time that Brice strokes David's prick.
Brice wants every sensitive, sexual place touched, so he dangles his balls in David's face next and David licks and sucks them while Brice jerks off above him, stroking his big dick until he drains his cock all over David's chest right after David cums onto himself. After such a sexy oral scene...we can't wait to see how Brice does fucking!